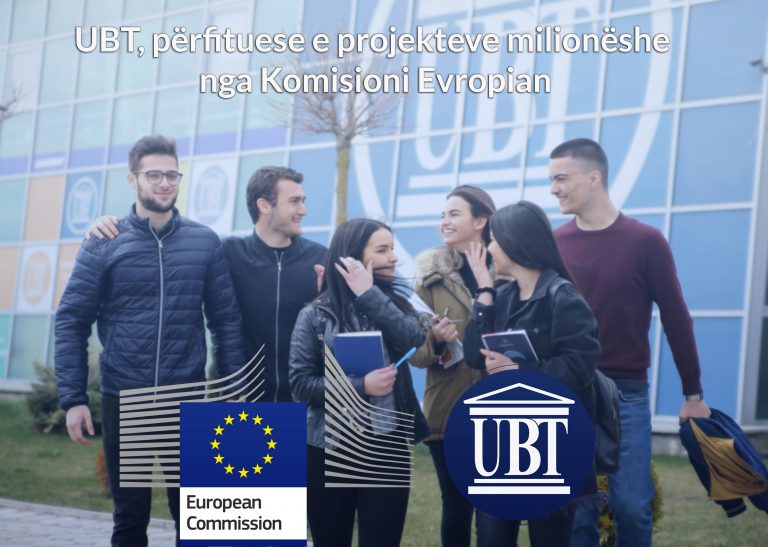 UBT, përfituese e projekteve milionëshe nga Komisioni Evropian
08/08/2019
Komisioni Evropian përmes programeve zhvillimore si Erasmus+ dhe Horizon Cosme, po ndihmojnë vendet si Kosova për implementimin e praktikave më të mira në fushën e arsimit të lartë.
Duke qenë kështu, UBT ka arritur të përfitoj projekte të shumta përgjatë 18 viteve të ekzistimit, projekte që ndihmuan në zgjerimin e rrjetit të ndërkombëtarizimit të vendit, si dhe rritjen e numrit të bashkëpunimeve me universitetet botërore.
Së fundmi, pas shpalljeve të rezultateve të projekteve për ngritjen e kapaciteteve në fushën e arsimit të lartë, UBT është përfituesi më i madh i projekteve për modernizimin dhe ndërkombëtarizimin e arsimit, ku si institucion përfitoi pesë projekte me vlerë milionëshe, nga gjithsej 18 projekte sa janë financuar në Ballkanin Perëndimor.
Projektet e përfituara janë: "Accelerating Western Balkans University Modernization by Incorporating Virtual Technologies", "The development and implementation of PhD Curricula in ICT for Kosovo Education System","Quality development of international cooperation and project management" dhe "Enterprise platform for fostering, modernization and sustainable growth in natural stone industry in Western Balkans".
Këto projekte do të jenë mundësi ideale për të ndërtuar ura të reja të bashkëpunimit, teksa këto projekte do të jetësohen në afat prej tri vitesh.
Si institucion i dëshmuar për cilësi dhe inovacion, për çka edhe u vlerësua e certifikua me çmimin e ekselencës me pesë yje nga EFQM, UBT është institucioni arsimor në Kosovë që ka fituar më së shumti projekte ndërkombëtare, që kanë ndikuar edhe në zgjerimin e rrjetit të bashkëpunimit me 450 universitete dhe institucione tjera ndërkombëtare.