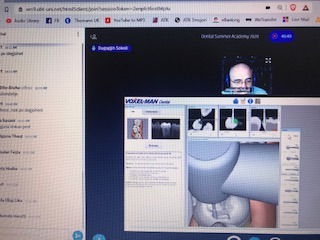 Në Akademinë e Stomatologjisë ligjërohet për parandalimin e kariesit te fëmijët dhe pllakën dentare
22/07/2020
Ka vazhduar aktivitetin Akademia Verore e Fakultetit të Stomatologjisë në UBT, akademi që ka zgjuar interesimin e shumë studentëve, të rinjve dhe ekspertëve të kësaj fushe.
Në ditën e tretë të kësaj akademie, ka ligjëruar profesori në UBT, dr.Dugagjin Sokoli, i cili ka shtjelluar ligjëratën me temë: "Use of haptic technology in dental education".
Tutje, Blerta Xhemajli, ka prezantuar ligjëratën me temë: "The role of fluoride in the prevention of caries in preschool children".
Ndërkaq, aktiviteti i ditës së tretë të kësaj akademie u përmbyll me ligjëratën e dr. Lumturije Asllani. Ajo ka shtjelluar temën: "Dental plaques".