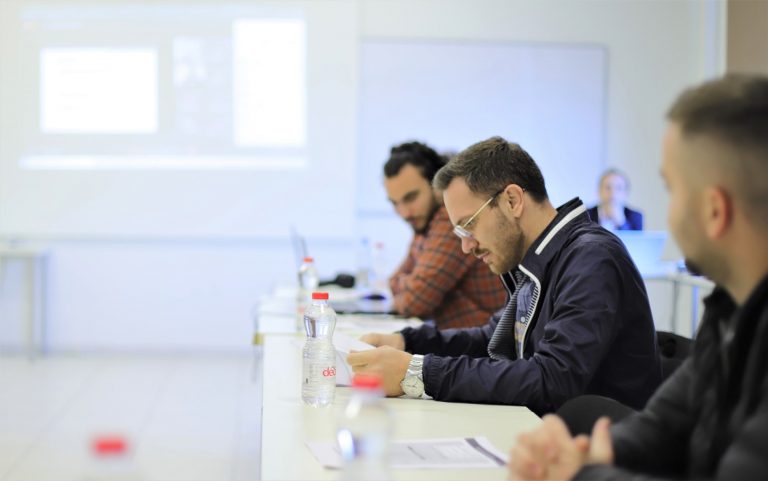 Studiues vendorë e ndërkombëtarë prezantojnë hulumtimet e tyre në aktivitetin e SHKI-së
bool(false)
30/10/2021
Një numër i madh i punimeve shkencore janë paraqitur dhe prezantuar online dhe fizikisht nga studiues, shkencëtarë dhe teknologë në Konferencën Ndërkombëtare për Shkencë, Teknologji, Biznes dhe Inovacion.
Duke qene kështu, në sesionet e aktivitetit të Shkencave Kompjuterike dhe Inxhinieri kanë prezantuar punime shkencore shumë studiues ndërkombëtarë dhe vendor.
Çështjet dhe temat të cilat u trajtuan  në konferencën e kësaj fushe janë:
Sesioni i parë
Keynote Speakers: Edmond Hajrizi
Chair: Edmond Jahjaga
Co – Chair: Ramiz Hoxha
"Detection and recognition of traffic signs in different atmospheric conditions", Rreze Pylla, Saura Dinarama, Valentina Shabani, Edmond Jajaga.
"Workplace Chat Application Using Socket Programming in Python", Egzon Salihu, Gentiana Blakaj.
"Membership application development – subscription based", Vlera Zhubi, Medina Shamolli.
"One-Time Pad Cipher (OTP) Use Cases and Simulation Examples for Electronic Financial Transactions", Ana Savic Goran Bjelobaba, Nikola Popović, Hana Stefanov.
"Software Automated Testing using BDD Approach with Cucumber Framework", Albesë Musliu, Xhelal Jashari.
"Development of a web application for user management", Vigan Ramadani, Medina Shamolli.
"Digitalization gap in academic institutions", Edin Bula, Besnik Qehaja, Edmond Jajaga.
Sesioni i dytë
Chair: Bertan Karahoda
Co – Chair: Krenare Pireva
"Detecting Road Signs with AI powered applications", Vesa Morina, Edmond Hajrizi.
"Constructing a personalize Learning Path using Genetic Algorithms approach", Lumbardh Elshani, Krenare Pireva.
"Application of Machine Learning in Software Testing: Survey", Edona Veseli , Ermira Daka.
"Monitoring Water Level in Lake of Badovci, Prishtina with Remote Sensing & GIS", Behar Haxhismajli, Besnik Qehaja, Edmond Hajrizi.
"Pneumonia detection in X- ray images using convolutional neural networks", Leandrit Ferizi.
"Chatbot in banks of Kosovo and Albania", Festina Retkoceri, Festim Halili.
Sesioni i tretë
Chair: Zhilbert Tafa
Co – Chair: Xhafer Krasniqi
"5G Network Deployment at UBT: Features, capabilities and challenges", Xhafer Krasniqi, Betim Gashi Osman Osmani, Edmond Hajrizi.
" TCP Congestion Control Mechanisms – an Experimental Analysis and Comparison", Vilsan Arifaj, Zhilbert Tafa.
"Blockchain invoicing for government services", Vehbi Neziri Ramadan Dervishi, Blerim Rexha.
"Security and privacy in social networks- Cambridge Analytica and manipulation with data'', Kushtrim Pacaj, Amet Shabani .
"Vulnerability and security and in XGS-PON and NG- PON2 technologies", Jakup Retkoceri.
"Internet of Things in Healthcare: A Review", Faton Kabashi, Hizer Leka, Lamir, Shkurti, Vehbi Sofiu, Nazmi Misini.
"Implementation of Internet of Things in STEAM education", Eljona Prako ,Alketa Hyso, Dezdemona Gjylapi.
"Importance of Cryptography in the Government", Agnesa Pefqeli, Gazmend Krasniqi.
"The impact of GeoGebra on learning the concept of quadratic function", Nazmi Misni, Faton Kabashi.