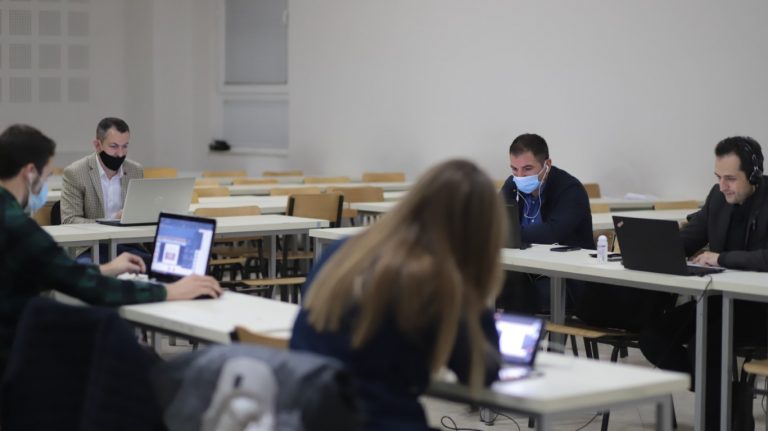 Studiues të Shkencave Kompjuterike prezantojnë online hulumtimet e tyre në aktivitetin e SHKI-së
31/10/2020
Një numër i madh i punimeve shkencore janë paraqitur dhe prezantuar online nga studiues, shkencëtarë dhe teknologë në Konferencën Ndërkombëtare për Shkencë, Teknologji, Biznes dhe Inovacion.
Duke qene kështu, në sesionet e aktivitetit të Shkencave Kompjuterike dhe Inxhinieri kanë prezantuar punime shkencore shumë studiues ndërkombëtarë dhe vendor.
Çështjet dhe temat të cilat u trajtuan  në konferencën e kësaj fushe janë:
Chair: Edmond Jahjaga
Co – Chair: Ramiz Hoxha
"Multithreaded Approach for Using Blockchain as an Automated Versioning Tool", Arber Kadriu, Dijar Kadriu, Donjet Salihi, Edmond Jajaga.
" OAuth 2.0 in Securing APIs", Olimpion Shurdi, Aleksander Biberaj, Igli Tafa, Genci Mesi.
" Facing the challenge of SARS CoV- 2 by building a centralized coordination mechanism for research and experience sharing for clinical and research purposes", Edin Bula, Besnik Qehaja, Ines Bula.
"Application of Information Technology in the HelathCare", Muhamet Avdyli, Elhame Maloku.
"Smart Technologies", Edmond Hajrizi.
" Peer to peer Audio and Video Communication", Kushtrim Pacaj, Kujtim Hyseni, Donika Sfishta.
"Performance Evaluation of Non-Relational Data on Big Data Environments", Edmond Jajaga, Edi Hasaj.
"Comparison between DOM manipulation technologies VirtualDOM and IncrementalDOM". Samir Ajdarpasiç, Medina Shamolli, Diellza Berisha.
"Smart Care Facility Software System Development", Qwndrim Muçolli, Shkwlqim Berisha.
" Aspects of the use of nanotechnology and nanomedicine in medicine", Era Kastrati, Muhamet Avdyli.
"From relational data stored on database servers to RDF files living on the web – The EasyRDF", Mirlinda Reqica, Meriton Reqica.
Chair: Bertan Karahoda
Co – Chair: Besnik Qehaja
"Mapping Water level in Lake of Badovci. Prishtina with Remote Sensing and GIS", Behar Haxhismajli, Emin Emini, Edmond Hajrizi.
" A review on Sorting Algorithms: Performance and Complexity", Armend Salihu, Mergim Hoti,
Arber Hoti.
" Big Data Analytics on Cloud: challenges, techniques and Technologies" Aleksander Biberaj, Olimpion Shurdi, Bledar Kazia, Renalda Kushe, Alban Rakipi.
"A model for predicting the probability of code beauty", Ermira Daka, Bleron Klaiq.
"Fraud detection using data-driven approach", Arianit Mehana, Krenare Pireva Nuci.
"Big Data in Patient Health Monitoring System", Arbwr Perçuku.
"Analysis and Visualization of Birth and Death Data in Kosovo Erijona Gashi", Vehbi Neziri
"Detection and reporting of hate speech on social networks through stream processing", Vesa Morina.
"Optimization of Travel Salesman Problem (TSP) Using Genetic Algorithms", Lumbardh Elshani, Egzon Hasi, Emin Emini, Behar Haxhismajli.
"Technological Trends on Cognitive Virtual Assistants" Shpwtim Sadriu
"Albanian corpus dataset analysis using Apache Hadoop" Fēllanza Avdimetaj.
Chair: Zhilbert Tafa
Co – Chair: Xhafer Krasniqi
"5G Testbed building and implementation as a form to support and drive Research and Innovation",  Xhafer Krasniqi, Edmond Hajrizi Besnik Qehaja.
"The Benefit from having quality TK infrastructure for realization of the project Broadband internet in Macedonia", Boris Arsov, Zoran Aleksov, Vergim Sherifi, Nenad Popovic.
"Visual cryptography scheme with digital watermarking in sharing secret information from car number plate digital images", Ana Savic, Goran Bjelobaba, Veselinovic Ceda, Hana Stefanovic
"SELinux Security Issues ,Critical Review", Besnik Zabergja, Agon Mehmeti
"Proposal of a legal framework through the development (F) Physical/Fizik (O) Online of new domain specific languages (DSL) in compliance with GDPR Tea Tavanxhiu", Andrea Alberici, Kozeta Sevrani
" Simulation Smart City in UBT Campus using simulation software", Liza Berisha, Besnik Qehaja, Edmond Hajrizi
"Suggestions and recommendations for fulfillment and implementation of the project for Broadband internet in Macedonia", Zoran Aleksov, Boris Arsov, Vergim Sherifi, Nenad Popovic
A Framework to TOR Network Traffic Analytics Agon Qorrolli, Zhilbert Tafa.
"5G Technologies and its Impact during the implementation within exciting technology", Ylli Ajvazi , Edmond Hajrizi
"Towards Internet of Things: Design and Implementation of a Vehicle Measurement System for Air Quality Monitoring", Bleron Zherka, Zhilbert Tafa
"Analyzing OSI Model Layers, Benefits and Disadvantages", Amet Shabani, Kastriot Dermaku, "Gzim Ademi Usage of the symbols and Dionis square in the cryptosystem of Dionis (Poster)" Dionis Shabani.
"Constructing Hadamard matrices using binary codes (Poster)", Hizer Leka, Kabashi Faton.