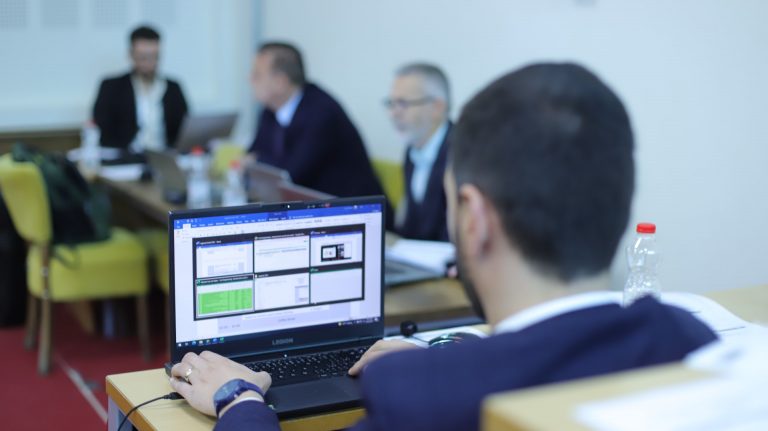 Punime të shumta shkencore prezantohen në Konferencën Ndërkombëtare të Inxhinierisë Ndërtimore, Infrastrukturës dhe Mjesdisit
30/10/2021
Konferenca Ndërkombëtare Ndërtimtarisë solli shumë të gjetura shkencore në fushën e inxhinierisë civile, infrastrukturës dhe mjedisit
Në Konferencën Ndërkombëtare të Inxhinierisë Ndërtimore, Infrastrukturës dhe Mjesdisit, u mblodhën shumë studiues e hulumtues përmes platformës online, që diskutuan e prezantuan tema që i përkisnin fushës së inxhinierisë, infrastrukturës dhe mjedisit.
Punimet e prezantuara në Konferencën e Inxhinierisë Ndërtimore, Infrastrukturës dhe Mjedisit janë:
Sesioni i parë
Chair: Muhamet Ahmeti
Co – Chair: Feti Selmani
"Sustainable bio-based composites L. Vittola Occupational Safety and Health Expert and is very much aware about the Kosovo situation", I. Vanadzins, L. Maurite.
"Particle shape analysis of industrial sand using traditional and computational geometry methods G. Kravanja Archistructures – back to origins", F. Selmani, B. NEla.
"Behaviour of lightweight built up cold-formed steel- concrete composite beam in bending", A. Rajić, I. Lukačević.
"Mitigation of wind-induced vibrations in high-rise dryassembled precast concrete residential tower buildings", F. Foti, B. Dal Lago.
"Environmental impact of precast and cast-in-situ concrete structures: a case-study comparison based on similar supermarket facilities", B. Dal Lago, D. Visconti V. Krelani.
Sesioni i dytë
Chair: Besa Jagxhiu
Co – Chair: Blertë Retkoceri
"Seismic isolation – Eurocode 8 requirements", F. Selmani, A. Sadikaj.
"Calcined Clay Cement Manufacturing (Lc3)", M. Hoxhaj, I. Boci.
"The use of cladding system as a mean to improve seismic behavior in high rise buildings", E. Luca.
"Investigation, Study and Seismic Hazard Analysis for Urban Zone", Sh. Mustafa, V. Krelani, L. Beqiri, B. Sinani.
"Experimental Study on Mechanichal Behaviors of Normal Concrete compared to Steel Fiber Reinforced Concrete", M.Ramadani, D. Kryeziu, M.Ahmeti.
"Effect of chemical attack in hardened concrete", Anjeza ALAJ.
"The impact of the subgrade (soil) consolidation process in values of internal forces during the analysis of the beam on elastic foundation", G. Rrudhani.
Sesioni i tretë
Chair Egla Luca
Co – Chair: Arbëresha Kastrati
"The Architecture and Engineering Behind Seismic Characteristics of Buildings",B. Beqaj, D. Kryeziu.
"Geovisualization of water quality in the artificial lake in Mitrovica, Kosova", Edon Maliqi, Petar Penev.
"Wastewater treatment plants – wastewater reuse and preventive measure", Afrim Syla.
"Wastewater treatment methods in Gjakova", I. Abdullahu, E. Bajraktari.
"Irrigation rates and hydromodule in the new conditions in Albania", A. Kërpaçi.
" Influencing factors in the occurrence of floods in the urban areas of Prishtina and Fushë Kosovë", S. Bublaku, B. Ratkoceri, E. Mekolli.
"Solution of foundation for bridge over Istog rivër according to existing site soil conditions: Casestudies from the site during execution of Works",  R. Behrami A. Mehmeti S. Jahaj E. Osaj Comparison of methods in calculating the bearing capacity of the foundation", H. Ahmeti A. Kastrati.
"Railway Network and Its Connecting Facilities in Kosovo (1874-2021)",  H. Çadraku, B.Jagxhiu.
Sesioni i katërt
Chair: Visar Hoxha
Co – Chair: Anjeza Alaj
"Road Safety Audit Elements on the ARBËN XHAFERI Highway", L. Krasniqi N. Dedaj.
"Calculation of measurement uncertainty", I. Luzha, F. Feka, B. Durmishi, B. Morina.
"Audit of Road Safety Elements in National Road N25.2 "Prishtinë – Gjilan", N. Dedaj, G. Xhemaili.
"Analysis of Urban Transport Line N4 [Matiqan- Gërmi] Pristina", M. Bajrami, B. Kizolli.
"Application of prestressing with pretension and post-tension in precast beams", B. Kurteshi, N. Pllana.
"Analysis and Application of the Cobiax System In Kosovo", M. Ahmeti, A. Kastrati.
"Cost Management of Business-Residential Complex", I. Ibrahimi G. Krasniqi.
"Retrofitting of columns in the existing structure with expanding of section with concrete jacketing and steel plates", G. Krasniqi, E. Luca.
"Reinforcement of the existing structure with FRP", L. Hasi, E. Luca.
"Structural Design and Thermoinsulation study of the Prefabricated Timber Passive House", V. Krelani, B. Gerguri.
"Analysis and Design of Structural Elements for a Closed Swimming Pool Structure. Study of the Connection with Bolts", I. Hetemi, V. Gafurri, V. Krelani.
"Perlite as Insulation material to increase the energy efficiency of buildings", V. Krelani, D.Muharremi.