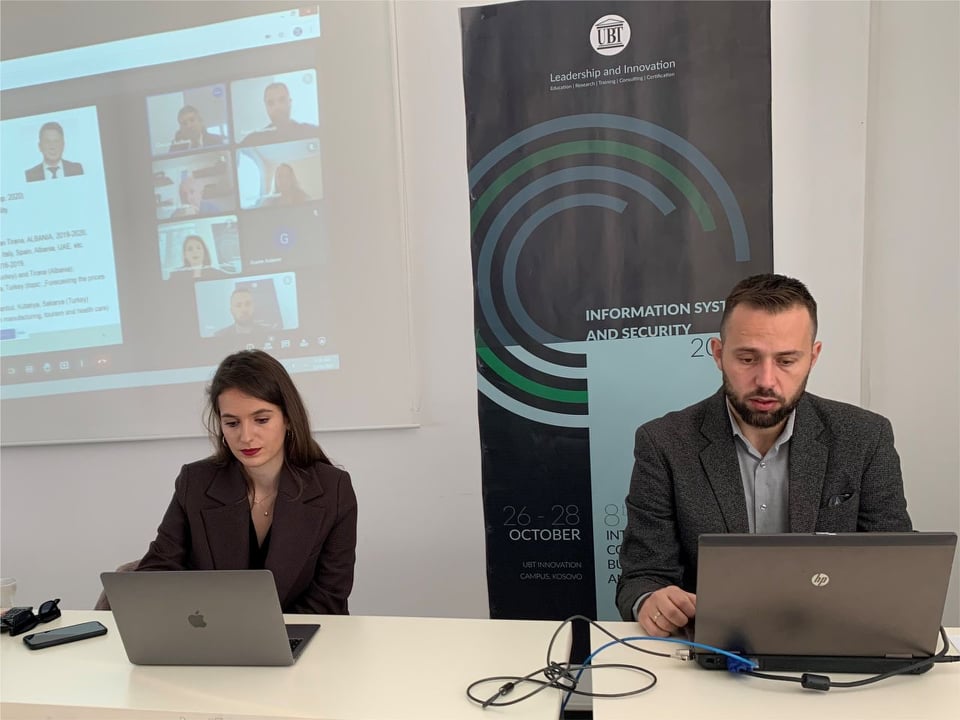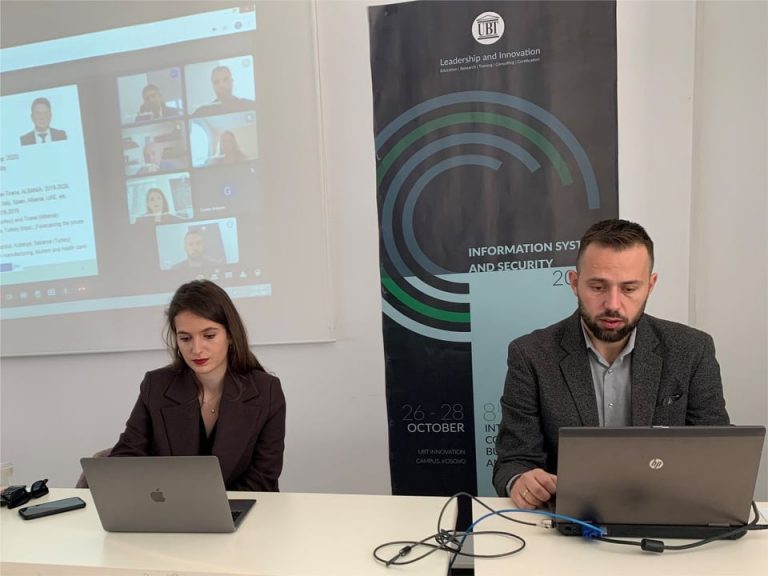 Në aktivitetin e Sistemeve të Informacionit dhe Sigurisë prezantohen dhjetëra punime shkencore, në kuadër të Konferencës Ndërkombëtare për Shkencë, Teknologji, Biznes dhe Inovacion
30/10/2021
Studentë të shumtë, profesorë dhe ekspertë të fushës së Sistemeve të Informacionit kanë prezantuar punime tejet profesionale në këtë lëmi, në kuadër të edicionit të dhjetë të Konferencës Ndërkombëtare për Shkencë, Teknologji, Biznes dhe Inovacion.
Punimet që janë dorëzuar dhe prezantuar në konferencën e kësaj fushe janë:
Sesioni i parë
Chair: Blerton Abazi
Co – Chair: Agon Memeti
"End-User Software Application Reliability: Case Study", Agon Memeti.
"Analyzing the Information Security Risk Management in Banking and Microfinance Institutions in Kosovo", Gzim Ademi, Blerton Abazi.
"The Impact of Advertising on Consumer Decisions to Purchase Products",  Rajan Arapi, Meriton Isufi.
"The Regional Division of the Republic of Kosova", Tomor Çela, Hazer Dana.
"Security and Vulnerabilities of Complex E-Services – State-Of- The-Art", Mërgim Hoti, Arbër Hoti, Armend Salihu, Besmir Gashi, Arbër Gegaj.
Sesioni i dytë
Chair: Ylber Limani
Co – Chair: Dashmir Istrefi
"Entrepreneurship as a contemporary process:Leadership – Innovation – Change", Osman Sejfijaj,Emira Shehu.
"The impact of watching series on the activities of high school students in Kosovo, 2021", Etrita Rexhepi, Hasan Metin.
"KPI's of Digital business models in Covid 19 period", Ermira Shehu, Osman Sejfijaj.
"Data-Driven Decision-Making Implementation and Advanced Business Processes in the Digital Age", Ylber Limani, Edmond Hajrizi, Larry Stapleton.
"The Challenges of Information Systems in Uncertain Times Managing in Extreme Ambiguity During the Period of Covid-19",Ylber Limani, Erza Ostrogllava.
"Implementation of Internet of Things in Steam Education", Eljona Proko, Alketa Hyso, Dezdemona Gjylapi.
"Web-Platform developed from data obtained from KBRA(ARBK), based on business development depending on location",Arta Abdullahu, Hasan Metin.
Sesioni i tretë
 Chair: Gelina Maliqi
Co – Chair: Blerton Abazi
"Vulnerability and Security and in Xgs-Pon and Ng-Pon2 Technologies", Jakup Ratkoceri.
"Role of Information Systems in Facing COVID-19 Pandemic",Gelina Maliqi.
"MQTT-based Solution for Household Energy Management, Dashmir Istrefi.
"Challenges of SME Management in The Covid 19 Pandemic Situation", Labeat Mutafa.
"The Impact of Banks New Alternative Digital Channels on Customer Satisfaction", Shpresim Vranovci
"The Impact of Accounting Software Characteristics on Organizational Performance The Context of Kosovo's SMEs", Fidane Spahija Gjikoli, Mimoza Januzi Syla.