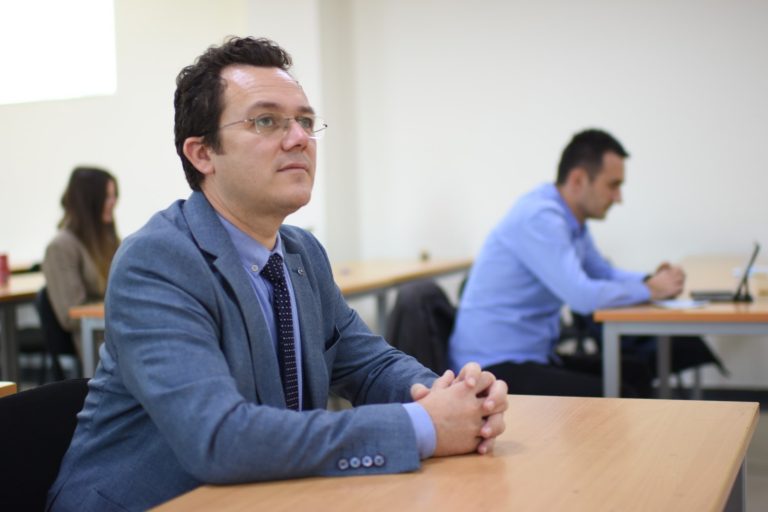 Mbyll punimet aktiviteti i Shkencave Farmaceutike, në kuadër të Konferencës Ndërkombëtare të UBT-së
bool(false)
30/10/2021
Dhjetëra punime shkencore janë prezantuar në edicionin e dhjetë të aktivitetit të Shkencave Farmaceutike dhe Natyrore, në kuadër të Konferencës Ndërkombëtare për Shkencë, Teknologji, Biznes dhe Inovacion në UBT.
Konferenca e Farmacisë ishte e akredituar nga Ora e Farmacistëve dhe mundësoi marrjen e pikëve për pjesëmarrësit e shumtë.
Punimet që janë dorëzuar dhe prezantuar në konferencën e kësaj fushe janë:
Sesioni i parë
Chair: Arianit Jakupi
Co – Chair: Agon Hoti
Keynote speaker:  Prof. Dr. Luciano Saso – Faculty of Pharmacy and Medicine Sapienza University, Rome, Italy Title: Employability of the Graduates of the Faculties of Pharmac.
"Internal Audit as a Management Tool in Pharmaceutical Industry", Edita Alili-Idrizi1, Dorentina Bexheti1, Sihana Ahmeti-Lika1, Merita Dauti, Arlinda Haxhiu-Zajmi, Lulzime Ballazhi1
"Hospitalized patients with Covid-19 in General Hospital – Pejë and the impact of the anti-Covid vaccine", Skender Radoniqi.
"Preventing OTC drug abuse – new challenges for the pharmacist community in pandemic crisis", Merita Dauti, Edita Alili-Idrizi, Alinda Haxhiu-Zajmi, Sihana, Ahmeti-Lika, Drita Havziu.
"Anti-sars-Coronavirus treatment based on molecular interaction", Gazmend Temaj, Kumrije Sopi-Xharra, Shefki Xharra.
Sesion i dytë
Chair: Demush Bajraktari
Co – Chair: Shpend Dragusha
"Studies on factors affecting drug treatment compliance in patients with rheumatoid arthritis", Valon Ejupi1,2, Erblina Ademi, Arianit Jakupi, Bujar Qazimi, Agon Hoti, Gazmend Temaj, Shpend Dragusha.
"Most prescribed penicillin types in the Family Medical Center GP in Istog during January December 2020", Fitim Alidema, Arieta Hasani, Mirzade A-Krasniqi, Flakron Alidema.
"Interactions between drugs in patients with chronic polytherapy", Lulzime Ballazhi, Edita Alili-Idrizi, Merita Dauti, Arlinda Haxhiu-Zajmi, Sihana Ameti-Lika.
" Pharmacists recommendation for herbal preparations with secretolytic and antitussive action", Gentiana Mehmeti, Gentrita Mehmeti, Urtina Raçi.
"Evaluation a renal function of patients with Medication-overuse headache (MOH)", Drita Yzeiri Havziu, Biljana Gjorgjeska, Visar Miftari, Edita Alili -Idrizi, Gjylaj Alija, Arlinda Haxhiu Zaimi, Merita Dauti, Sihana Ahmeti Lika, Lulzime Balazhi.
"Impact of Covid-19 on Digitalization paces of Pharmaceutical Industry", Agon Hoti, Arianit Jakupi, Lirim Mustafa.
Sesioni i tretë
Chair: Fitim Alidema
Co – Chair: Agon Hoti
"Identification of high-performance anodic memristors by combinatorial screening in hafnium-tantalum library", Ivana Zrinski, Cezarina Cela Mardare, Achim Walter Hassel, Andrei Ionut Mardare.
"Chalcone synthesis, properties and medicinal applications", Elsa Miftari, Miribane Dërmak-Sopjani, Arleta Rifati-Nixha.
"Determination of Physico-Chemical Analysis of Milk from Three Different Regions", Endra L. Pula, Flutura C. Ajazi, Hyrije Koraqi.
"Synthesis and structural characterization of some new substituted chalcone derivatives starting from 4-nitrobenzaldehyde", Teuta Halili, Miribane Dërmaku-Sopjani, Arleta Rifati-Nixha.
"Effect of the Cera Carnaubae and Euphorbia Cerifera Cera waxes in the Synthesization of Natural Lipsticks", Denisa Sadiku, Arleta Rifati-Nixha.
"Distribution of Trifolium genus (Fabaceae family) in Some Villages of Istogu Municipality", Smajl Rizani, Kimete Lluga-Rizani, Fjolla Qetaj, Kemajl Kurteshi, Pajtim Bytyçi.
Sesioni i katërt
Chair: Arianit Jakupi
Co – Chair: Shpend Dragusha
"Phenotypic and allelic variations of blood types at different time and spatial intervals", Hyzer Rizani, Shkelzim Ukaj, Vita Radoniqi, Smajl Rizani, Naser Kamberi, Magbule Rizani, Shkumbin Shala.
"Immunotherapy in childhood acute lymphoblastic Leukemia",Gazmend Temaj, Kumrije Sopi-Xharra, Shefki Xharra.
"Testing the direct compaction properties of ground plant material to make a solid pharmaceutical form from mountain tea", Bujar Qazimi, Marija Glavas-Dodov, Gjoshe Stefkov, Valon Ejupi, Shpend Dragusha, Fitim Alidema, Marija Karapandzova, Ivana Cvetkovikj-Karanfilova, Svetlana Kulevanova.
"Salix alba – medicinal benefit and phytoremediation potential", Demush Bajraktari, Biljana Bauer, Lulzim Zeneli.
"Distribution of total phenols and flavonoids in flowers and leaves of Sambucus nigra from Kosovo", Shpend Dragusha, Bujar Qazimi, Shkelzim Ukaj, Arianit Jakupi, Agon Hoti, Gazmend Temaj, Valon Ejupi.
" Total content of phenolics and flavonoids in selected medicinal plants from Kosovo",Valon Ejupi, Bujar Qazimi, Shkelzim Ukaj, Arianit Jakupi, Gazmend Temaj, Agon Hoti, Erblina Ademi, Shpend Dragusha.