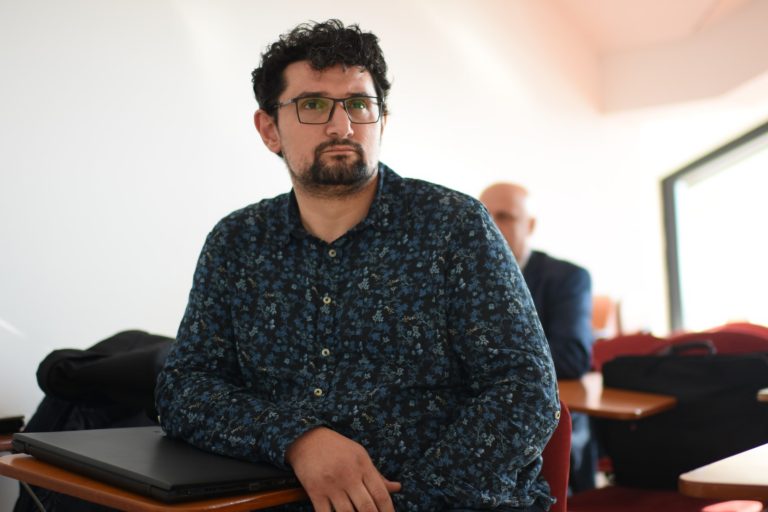 Mbyll punimet aktiviteti i Juridikut në Konferencën Ndërkombëtare për Shkencë, Teknologji, Biznes dhe Inovacion
30/10/2021
Edicioni i sivjetmë i Konferencës Ndërkombëtare për Shkencë, Teknologji, Biznes dhe Inovacion, është pasuruar me punimet e hulumtueseve dhe profesorëve të fushës së Juridikut.
Në sesionet e konferencës së Juridikut, studiues të shumtë nga vendi dhe më gjerë, prezantuan dhjetëra punime me tema tejet interesante.
Punimet që janë dorëzuar dhe prezantuar në konferencën e kësaj fushe janë:
Sesioni i parë
Chair: Visar Hoxha
Co – Chair: Veli Lecaj
Keynote speaker: Jernej Letnar Cernic
"Unlawful regulations in the Turkish academic incentive system", Alaeddin Bobat.
"Village law in Turkey with recent changes", Alaeddin Bobat.
"Regulatory Challenges to achieving sustainable buildings in Kosovo",Visar Hoxha, Veli Lecaj.
"EU legislation on Water quality management wastewater reuse and preventive measure", Afrim Syla
"Energy Legislation in Kosovo, analyses and application compared with EU directives, importance for improving Energy Efficiency and Sustainability refurbishment of building stock in Kosovo",  Fuat Pallaska.
"Environmental laws for nature protection: law on national parks in Republic of Kosovo",Nexhat Balaj.
"Financial and legal effects of property management in the civil sector",Bekim Sylaj, Veli Lecaj.
Sesioni i dytë
Chair: Nehat Idrizi
Co – Chair: Sevdai Morina
"Defending child marriages in Kosovo or children from underage marriages", Jorida Xhafaj
"Ownership Role of Intellectual Property in Kosovo", Altin Maliqi & Sevdai  Morina.
"Legal regulation of cryptocurrencies", Bashkim Nuredini & Vesna Paunkovska-Dodevska.
"The impact of COVID-19 on the implementation of the competition law in relation to cooperation between competitors",Egzona Osmani & Adnan Jashari.
"Attracting FDI through dispute resolution mechanisms", Njomeza Zejnullahu.
"Legal treatment of foreign investment and the role of international investment arbitration through the prism of Kosovo",Arianit Kaqandolli dhe Bashkim Nuredini.
"European Small Claims Procedure, Importance And Characteristics", Arbnore Elezi.
"Comparative Review of Construction Law and Building Regulations Affecting Property Markets in Kosovo and Selected European Countries",Veli Lecaj & Visar Hoxha.
Sesioni i tretë
Chair: Elton Tota
Co – Chair: Bashkim Nuredini
"New regional integration initiatives: a substitute for EU accession?", Blerim Reka.
"Kosovo and the EU Stabilization and Association Agreement", Sazan Isufi & Visar Hoxha & Veli Lecaj.
"The Western Balkans and possible alternatives to accelerating EU membership", Mersel Bilalli.
"State Aid rules in Kosovo: the need for approximation with EU acquis",Elton Tota.
"Government Formation Process According to Kosovo Constitution Law",Behar Selimi & Murat Jashari.
"Necessity of reforming the legal framework for local elections in the Republic of Kosovo", Xhavit Shala and Mervete Shala.
"Social care, welfare, rights and security of citizens in Kosovo", Zenel Hajrizi & Agron Rrustemi,
Sesioni i katër
Chair: Mensur Morina
Co-Chair: Florim Shefqeti
"Confiscation of assets with criminal origin as a form of fight against organized crime in Kosovo", Elmi I.Kelmendi.
"Deviant behavior of juvenile delinquents", Ahmet Maloku.
"Role and operative importance of application of criminal procedures during the investigation of organized crime in Kosovo",Reshat Maliqi.
"The principle of legality in international criminal law", Nuredin Lutfiu.
"Acquisition of property rights", Florim Shefqeti.