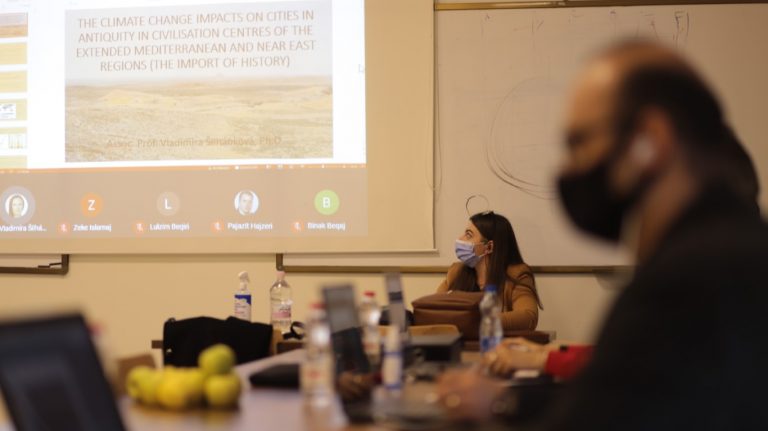 Konferenca Ndërkombëtare e Arkitekturës dhe Planifikimit Hapësinor përmes platformës online mblodhi shumë shkencëtarë e hulumtues shkencorë
31/10/2020
Në Konferencën Ndërkombëtare të Arkitekturës dhe Planifikimit Hapësinor u prezantuan shumë punime nga studiues e hulumtues nga vendi, rajoni dhe Evropa. Konferenca e organizuar online, mblodhi punime e prezantime që preknin fushën e Arkitekturës dhe Planifikimit Hapësinor.
Gjatë kësaj konference u trajtuan tema të ndryshme rreth arkitekturës, planifikimit urban e atij hapësinor, duke shkëmbyer hulumtime dhe të gjetura shkencore mes hulumtuesve shkencorë.
Punimet e dorëzuara dhe prezantuara në Konferencën e Arkitekturës dhe Planifikimit Hapësinor janë:
Session 1
Chair: Dr. Lulzim Beqiri
Co – Chair: Ph.D. Mimoza Sylejmani
Keynote speaker: Ph.D. Vladimíra Šilhánková
The neighborhood formation affected by "Kulla"dwelling- Dr. Bekim Ceko, Zeke Islamaj
Geoheritage of Kosovo, its Tourism Potential and Percpective- Ph.D. Besa Jagxhiu, Dr. Hazir Cadraku
From light to heavy, the spread of Modernism in Tetova- Dr. Kujtim Elezi, Dr.Nuran Saliu
The climate change impacts on cities in antiquity in civilization centres of the extended Mediterranean and near east regions (the import of history)- Ph.D.Vladimíra Šilhánková
Modern Arts Museum in a postwar city Prishtina- Dr. Bekim Ceko, Valmir Ramadani
Sustainable design of a detached house in Matican suburb of Prishtina- Sadije Deliu, Lirak Goga
Nature and Designe; Case study "Feng shui Center" in Prishtina- Dr. Bekim Ceko, Besjan Kulludra
Cultural heritage in Kosovo – conservation, restoration and international documents governing this field- Dr.Sc. Pajazit Hajzeri
Urban heat islands and green roofs role in the Center of Prague-Ph.D. Michael Pondělíček, VERLEURE W.
Energy Efficiency Renovation Measures in Public Buildings,
Case Study Kindergarten "Buzëqeshja" City of Prishtina- Nora Cimili, Ph.D.Petrit Ahmeti
Importance of implementing digitalization of procedures for equipment with construction permits – Zejnulla Rexhepi, Safete Veliu, Ph.D. Lulzim Beqiri
Session 2
Chair: Ph.D. Bekim Ceko
Co – Chair: Dr. Lulzim Beqiri
Keynote speaker: Dr. Edmond Hajrizi
Predesign Phase-Model of Consequent Developing and managing Architectural Projects and its Possible Application in Legal Framework- Assoc.Prof. Dr. Strahinja Trpevski, Assis.Prof.Dimitar Papasterevski
An algorithm for identifying simple states in complex rectangular shapes- Dr.Nuran Saliu, Dr.Andrea Maliqari, Dr.Kujtim Elezi
Urgent need to promote and implement the building resilience in Kosovo- Ph.D.Ferhat Bejtullahu, Ph.D.Besa Jagxhiu
Is the administration and treatment of illegal constructions in socially owned property by the Privatization Agency of Kosovo, reasonable, fair and acceptable, by current users of those proporties?-Dr. Venera Goxha
Travelers in the Ottoman Balkans. Descriptions and comments on the architectural and urban environment in the Thrace region between 15th and Early 20th century- PhD. Luca Orlandi
Ornamental plant species for urban public green spaces- Dr.Nexhat Balaj
Sustainable Development and Regenerative Sustainability in the Legal Urban Framework of the Republic of North Macedonia – Challenge or Utopia- Strahinja Trpevski, Zaklina Angelovska
Building the same houses-social category – Nexhat Coçaj
Body Measurement and Adjustments of Furniture for Children of Age 8 – 10 in Primary Schools (Case Study Children in Republic of Kosovo)- Rrahim Sejdiu, Blertë Sylejmani, Anduela Kasumaj
Modern Facade Techniques- Kaltrina Spahiu, Kaltrinë Mjaku
The Syntax of (un)successful Space- Banush Shyqeriu
Session 3 – Parallel Session
Chair: Dr.Binak Beqaj
Co – Chair: Dr. Elvida Pallaska
Implementation of e-Urbanization in the Legal Framework ofthe Republic of North Macedonia-  Zaklina Angelovska, Strahinja Trpevski
Urban functionality, meaning and identity of urban public space (Cases from Kosova)-Dr. Binak Beqaj
Integrated and Sustainable Approaches towards Protection Problem of Urban and Cultural Heritage in Pristina- Shqiprim Ahmeti, Iclal Kaya
Smart City Indicators: Can they improve governance in Prishtina and other main cities of Kosovo?-Dr. Elvida Pallaska
Spatial planning of a territory for the possibility of developing an economic zone "Case study of the Kërqevë-Lipjan economic zone"- Ajet Gashi
Sustainable Management of Water Resources in Urban Areas as an Integrated Part of Urban Planning- Drenushe Fidani, Violeta Gesovska, Valentina Zileska Pancovska
Urban settlement of the Illyrian-Roman period Municipiumi D.D. (DarDanorum)-Dr.Pajazit Hajzeri
Urban layers and historical footprints as a Cultural adequate housing right. Case study National Theater and Urban Villas of Tirana, Albania- Doriana Musaj
The economic effects of creative city clusters: The case study of Eindhoven City- Dr. Ylber Limani, Belinda Limani
Quality of Life of Residents in Urban Areas of Regulatory Plans in Kosovo- Marjan Ivezaj
Session 3 – Parallel Session
Chair: Dr.Arber Sadiki
Co – Chair: Dr. Ajhan Bajmaku
Piet Mondrian concepts in the houses of the "Reka e Epërme" Gostivar – Republic of North Macedonia- Dr.Enis Jakupi, Erda Besimi, Granit Haxhimustafa
The process of legalization of residential buildings in co-ownership, as an indicator of economic development- Rame Hamzaj
Architectural Design of Multifunctional Center in Prishtina- Bard Bajqinovci, Lulzim Beqiri
Kindergarten Design in the Municipality of Prishtina- Blerona Zymberi, Dr.Lulzim Beqiri
Art Gallery in Presevo- Jetesa Qerimi, Dr. Lulzim Beqiri
Research and design of a professional school in Prizren region based on market needs assessment and citizen demands- Era Krasniqi, Sadije Kelmendi
Designing of center for treatment and rehabilitation from drug and alcohol addiction- Dren Gojani, Ph.D.Petrit Ahmeti
Presentation of Interior Design Products through 3D Rendering-Faton Spahiu
How Did Architectural Design Contributed to the Failure of the Pruitt-Igoe Housing Project?-Visar Shllaku
Potential of Basic Geometric Shapes in Architecture – Case study: Tadao Ando-Dr. Arber Sadiki City & city center, the application of space syntax-Arsim Murseli
Influence of blast furnace slag content on the sulfate durability of the perlite based geopolymer mortars-Besian Sinani, Serhat Çelikten
Functional Lifespans of multi-family apartments- Ph.D.Mimoza Sylejmani, Dr.Lulzim Beqiri
Children's playgrounds in different neighborhoods in the city of Pristina-Rineta Jashari
Contemporary architecture of social buildings and importance of their photographic presentation-Zana Prelvukaj.