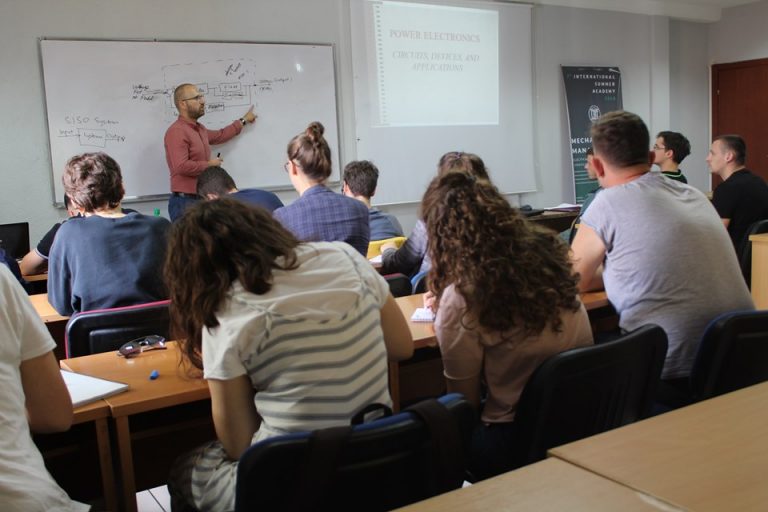 Ka nisur pranimi i abstrakteve për Konferencën Ndërkombëtare Mekatronikë, Inxhinieri e Sistemeve e Robotikë, dhe për Inxhinieri të Energjisë
27/06/2019
Si fusha që gjithmonë janë në kërkim të shpikjeve dhe teknologjive të fundit, Mekatronika, Inxhinieria e Sistemeve e Robotika, si dhe Inxhinieria e Energjisë, janë fushat të cilat në këtë edicion të Konferencës Ndërkombëtare do të kenë vëmendje të veçantë, gjë që vërehet edhe për nga numri i abstrakteve që kanë nisur të vijnë.
Qëllimi i konferencës është të lehtësojë shkëmbimin e njohurive midis akademikëve të rinj, studentëve pasuniversitarë, kandidatëve të doktoraturës, kërkuesve të rinj, studiuesve dhe ekspertëve industrialë, si dhe për të ndarë pikëpamjet dhe përvojat në fushën e mekatronikës, inxhinierisë së sistemit, robotikës, inxhinieris+ s+ energjis+ dhe fushave t+ ngjashme.
Punimet dhe prezantimet për Konferencën e Shkencave Politike duhet të trajtojnë tema të tilla si:
Mechatronics, robotics and biometrics
Mechatronics systems in manufacturing
Systems engineering
Design of machines, devices and systems possessing a degree of computer-based intelligence
Sensors, wireless sensor networks and multi-sensor data fusion
Artificial intelligence, neural networks and fuzzy logic in mechatronics and robotics
Applications of machine vision, image processing, pattern recognition and synthesis
Natural Language Processing (NLP)
Telerobotics, human computer interaction, human-robot interaction
Simulating Human
Mechatronic systems fault diagnosis and fault tolerance … etc.
Punimet dhe prezantimet për Konferencën e Juridikut duhet të trajtojnë tema të tilla si:
Renewable Energy Sources
Solar Systems
Wind Power, Hydro Energy
Energy Storage Technologies
Efficient Heating & Cooling Technologies
Advancements in Thermal Insulation
Co-generation & Tri-generation
Energy Policy
Industrial Energy Efficiency
Environmental impact of Energy Efficiency
Building Envelopes & Building Climatology … etc
Për më shumë detaje, klikoni në: http://conferences.ubt-uni.net/2019/ , teksa pyetjet tuaja shtesë mund t'i dërgoni në: info@ubt-uni.net.