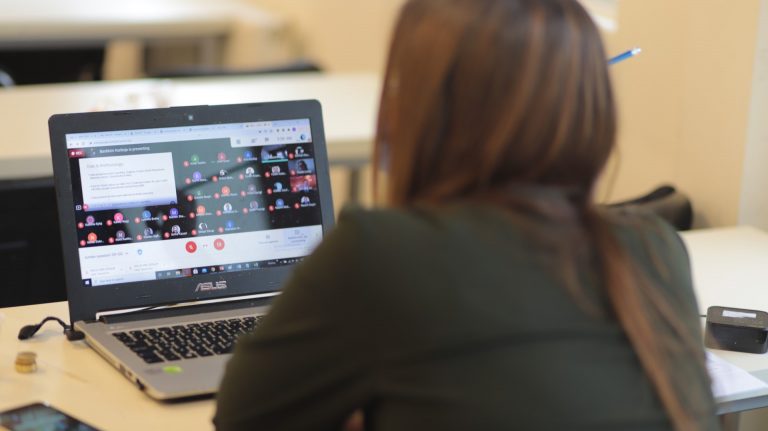 Dhjetëra studiues të Ekonomisë prezantuan punime shkencore në Konferencën Ndërkombëtare të UBT-së
31/10/2020
Konferenca Ndërkombëtare Menaxhment, Biznes dhe Ekonomi mblodhi studiues, ekspertë, profesorë dhe student të shumtë nga vendi dhe rajoni, të cilët prezantuan tema tejet interesante dhe shpalosën të gjeturat e tyre nga hulumtimet shkencore.
Edicioni i nëntë i kësaj konferencë mundësoi që edhe kësaj radhe të shkëmbehen përvoja profesionale mes pjesëmarrësve.
Punimet që janë dorëzuar dhe prezantuar në konferencën e kësaj fushe janë:
Session 1
Chair: Edmond Hajrizi
Co – Chair: Naim Preniqi
Keynote speaker: Edmond Hajrizi
Entrepreneurial and Innovation Based Ecosystem (Resilience, Innovation, and Sustainability) – Edmond Hajrizi
The Importance of Macroeconomic Factors in the Equity Price Changes: The Case of Balkan Countries and Turkey – Bashkim Nurboja and Florin Aliu
Gender and Firm Innovation: Evidence From Transition Economies – Arta Mulliqi
Purchasing behavior during COVID-19. Ëill it be a "neë normal"?  – Nora Sadiku and Afërina Skeja
Pandemic and Economic Crisis in Society – Plamen Iliev
Digital Marketing and its Impact on Sales – Gonxhe Beqiri
The Importance and Impact of Foreign Direct Investments (FDI) in Transition Economies            – Nazmi Zeqiri
Project-Based Learning Assessing: Peer Assessment on Travel Business Management – Kanlaya Sëangkong and Pavornrat Subhimaros
Session 2A – Parallel Session
 Chair: Naim Preniqi
Co – Chair: Muhamet Gërvalla
The Impact of Innovation on Kosovo Commercial Banks Performance – Shpresim Vranovci
Impact of Demographic Factors on the usage of Internet Banking in Developing Countries: An Empirical Investigation in Kosovo – Faruk Ahmeti and Nazmi Zeqiri
A Nation's Mission Of Housing and Consumption: An Analysis of Household Budget Survey Expenditures in Kosovo – Florin Aliu and Isa Mulaj
Utilizing Knoëledge Management for Improving the Operational Performance of an Automotive Service Center – Besim Imeri, Shpetim Lajci and Naser Lajci
Strategic Human Resources Management tools and techniques through Social Netëorks – Blerim Dragusha Saso Josimovski and Ngadhnjim Dragusha
Big Data Analytics on Cloud: Challenges, Techniques and Technologies – Aleksander Biberaj, Bledar Kazia, Renalda Kushe and Olimpion Shurdi
Entrepreneurs and Contemporary Human Resource Management Practices – Correlation ëith Business Performance – Osman Sejfijaj and Ermira Shehu
Hot Spots or Balanced Score Cards – Besnik Skenderi and Diamanta Skenderi
Digital Marketing Trends in 2020 – Naim Preniqi, Kaltrina Sylaj and Elinda Krasniqi
Initial Analysis of COVID -19 Deaths and COVID-Cases ëith HDI and Socio Economic Indicators – Yurdal Cakal Velagic and Sema Kazazi
Session 2B – Parallel Session
Chair: Hasan Metin
Co – Chair: Nehat Dobratiqi
Qualitative Impact Assessment of a Conditional Cash Transfer Program in a Central Philippine Community – Abgel L. Lalamonan and Sheena Mae T. Comighud
Evaluation of Students' Feedbacks on Online Education during COVID-19 – Aferina Skeja and Nora Sadiku Dushi
Customer Complaints in the Energy Sector – Besmire Aliu
Data Access and Quality Assessment of Selected Macroeconomic Statistics in Kosovo – Mentor Geci and Kaltrina Bunjaku Pasuli
Urban Solid Ëaste Management in Loë-Income Countries – Kostandin Kristo
The impact of Education on Entrepreneurial Ecosystem – Ermal Lubishtani, Iraj Hashi and Ian Jackson
Entrepreneurship Challenges as a Consequence of Non-Engagement of Project Managers – Ermira Shehu and Osman Sejfijaj
Performance Measurement in The Municipalities of the Republic of Kosovo Case Study-Municipality of Lipjan – Jeton Dragaqina, Hasan Metin and Hyrije Aliu Dragaqina
Reëard Management of Employees in the Banking Sector – Enver Daci and Lirim Lani
Information and Communication as COSO Frameëork Elements snd Their Impact on the Performance of Entity: Case Study Republic Of Kosovo – Gresa Mjaku
Session  3A – Parallel Session
Chair: Nora Sadiku – Dushi
Co – Chair: Aferina Skeja
Challenges, Funding Resources and Their Impact on the SMEs Groëth in Kosovo  – Enver Krasniqi and Dea Krasniqi
SME Development in Kosovo and Access to Finance: Diaspora Saving as a Financial Source – Arbiana Govori and Qemajl Sejdija
B2B or B2C, this is the question: A case study over implementation of B2B and B2C models in the same sector and a cross-company e-business model evaluation – Besim Abdullahi and Bashkim Nuredini
The impact of COVID-19 on Consumer Behavior in Kosovo  – Leonita Braha Vokshi and Kaltrina Bunjaku Pasuli
Covid-19 and its Impact on Accounting Implications and Financial Reporting: Kosovo Perspective – Enis Abdurrahmani
Covid-19: The Readiness and Adaptation of Travel Agent to Health Tourism – Ëiroon Boonon, Ranipa Hongmo, Tanakorn Chandramani, Siëat Kongthing and Kanlaya Sëangkong
Consumer Behavior in Choosing Products for Children (0-24 Months) – Rajan Arapi and Malsore Gashi Kida
The Role of Risk Management Departments in Banking Institutions – Enver Daci
Specifications of Small Business Management in Serbia – Flutra Jahiu
The Role of Human Resource Competencies in Private Businesses in Kosovo – Mersiha Kacamakovic
Session 3B – Parallel Session
Chair: Arta Mulliqi
Co – Chair: Amir Imeri
Impact of Strategies in the Development and Groëth of Businesses  – Labeat Mustafa and Mirjeta Domniku
The relative and overall effectiveness of different ALMPs in reducing unemployment. An analysis using Inverse Probability Ëeighting-Regression Adjustment – Albulena Jahja, Nick Adnett and Artane Rizvanolli
The Impact of Digital Technologies on Business Internationalization Process – Ylber Limani and Zana Bashota Broja
The impact of Covid 19 on North Macedonian Economy and Government Responses – Blerta Kodri and Bukurije Imeri Jusufi
The Relationship Betëeen Government Debt and Economic Groëth in North Macedonia – Amir Imeri and Gresa Mjaku
The Typology of Consumers in Kosovo and Motivation – Hamez Rama and Nurtene Rexhepi
International Economic Factors and Crises – Mirjeta Domniku and Lorik Elezkurtaj
Operational and Statistical Management in Relation to Determination of Aerodinamic Resistance on Mining Lines – Shaqir Elezaj
Determinant Factors of Human Resource Motivation in Non-Governmental Organizations – Mentor Shaqiri and Ismajl Mehmeti
Portrayal of Current Business Situation in Kosovo – Arta Abdullahu
Session 4A – Parallel Session
Chair: Bashkim Nurboja
Co – Chair: Florin Aliu
Fiscal Decentralization and the Impact of Disbursing Value Added Tax Income to Local Self- Government Units in the Republic of North Macedonia – Farije Aliu and Driton Mehmeti
Integrated Talent Management- Ëhat's in it for Kosovar Businesses?  – Genc Loxha and Nora Sadiku Dushi
Macroeconomic Stability Objectives – Hasan Metin, Iliriana Berisha and Lirim Lani
The Impact of the Covid-19 Pandemic on Business Approach to Digital Technology in Kosovo – Aurora Mustafa
Loans and Effective Interest Rate – Nazmi Misini and Faton Kabashi
The Role of Personalized Marketing in Business-Customer Relationships – Mirjeta Domniku, Labeat Mustafa and Ejona Bajraktari
Logical Frameëork Approach and the Ëay to Conceptualize Project Proposals – Dea Mustafa and Hasan Metin
Use of the Monte Carlo Model in the Corporate Tax Strategy in Kosovo – Lirim Lani and Enver Daci
COVID-19's Impact and Implications to Financial System   – Armira Fetoshi and Bukurie Imeri Jusufi
Analysis of Investments in Financial Markets – Blerina Jashari and  Bukurie Imeri Jusufi
Session 4B – Parallel Session
Chair:Ylber Limani
Co- Chair: Gonxhe Beqiri
Kosovo as a strategic aëareness of the EU – Ylber Limani and Erza Ostrogllava
Customer Complaints in the Energy Sector – Shpresa Musliu
Measuring the Size of the Informal Economy in the Republic of Kosovo (2008-2018) – Dea Krasniqi and Enver Krasniqi
Marketing Targets the Consumer – Nazmi Maksutaj
Investment Decision Analysis – Case study: AAA Company – Ardian Uka
Optimization in Linear Programming – Nazmi Misini and Faton Kabashi
Loan Restructuring and Effective Interest Rate – Ramadan Limani
Focusing the E-Procurement Platform in Kosovo – Mirgete Rama and Hasan Metin
The Impact of Marketing Strategies on the Groëth of Voluntary Blood Donors in Kosovo – Melania Gjocaj and Gonxhe Beqiri
The Importance of Data-Driven Decision Making (DDDM) in Business Performance-Profit – Nehat Dobratiqi
Influencing Factors on the Ethical Decision Making of Accountants in Kosovo – Fidane Spahija Gjikolli
Financial Statement Analysis: Case study of Kamila LLC  (2016-2018) – Fidane Spahija Gjikolli and Hana Gjurgji.