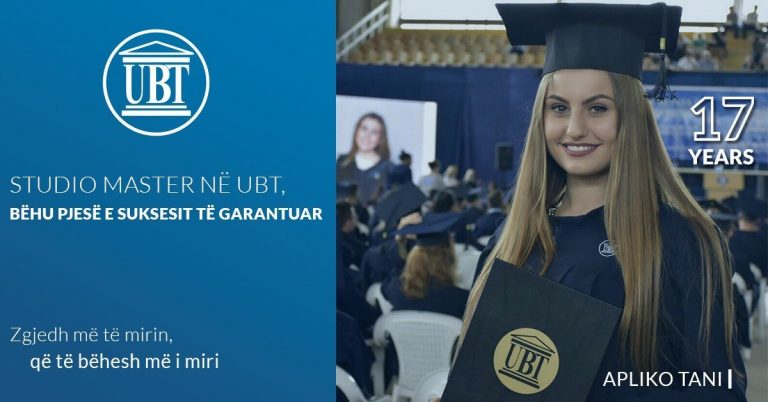 Being part of a Master Study Program at UBT leads you to a guaranteed success
26/10/2018
UBT offers master study programs of unique specializations for all the graduated students who have recently started on their professional career.
Master study programs at UBT lead you to a guaranteed success and professional proficiency. The whole range of this process is shaped by the ceaseless and professional commitment, modern curriculums, a devoted academic staff, and the sophisticated infrastructure of UBT.
For more than a decade UBT exemplifies a synonim of international education. According to statistics is the only institution in Kosovo, which has a strong collaboration with global partner universities.
Being part of UBT creates you with the opportunity of acquiring in-depth knowledge about a broad scope of disciplines and of being up-to-date with the latest trends of technology. Among others, it helps you create a clairvoyant vision for the future.
UBT Master Study Programs provide you with the opportunity of starting on your favorable professional career and thereafter being prepared for PhD Studies. Studying in this institution is a great chance to broaden your knowledge and have a clear and straightforward vision to prepare projects, provide expertise etc.
UBT is the onliest institution which offers international certification, online systems, trainings, preparation courses, it has the largest electronic library with thousands of books titles as well as the most innovative scientific laboratories.
You may study the following Master Programs such as; in the Faculty of Media and Communication, Business an Economy, Computer Science and Engineering, Civil Engineering, Information Systems, Management of Mechatronics, Architecture, Public Policies and Management, Political Science, Pharmacy and Dentistry.
For further information visit for UBT Master Study Programs, visit the following official webpage of UBT;
https://www.ubt-uni.net/sq/studimi/programet-e-studimit/programet-master/