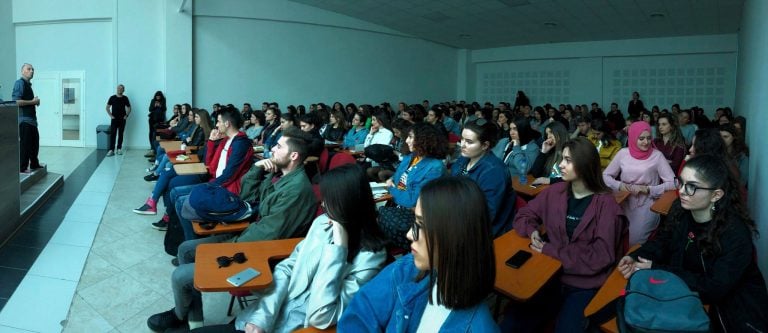 Well-known artist, Nir Alon has created an artistic work at UBT
21/03/2019
Installation of materials that were created from the wasted materials and thematic lectures held by renowned German artist, Nir Alon, gathered at UBT many students from the Faculty of Integrated Design, who showed keen interest in the way the features of the works of this artist.
He introduced some of his most famous works of art to the students, as he explained the materials he uses, the messages that are hidden behind his works, and the inspiration that comes from everyday life.
"I always wanted to do something in my work that is difficult to accomplish. This was my choice, forced by the things I did not like." – Alon said.
He advised the students to think more about themselves, who they want to become, what they want to achieve, what they want to leave behind and how they want to be remembered by others. According to him, only in this form, they will become special.
Alon has made some artistic works at UBT which were created of materials that are not being used anymore.
Nir Alon in most cases develops his pieces of art by being inspired from everyday life items such as floors, cupboards, lamps, cables, while the installations are located directly at the exhibition site.