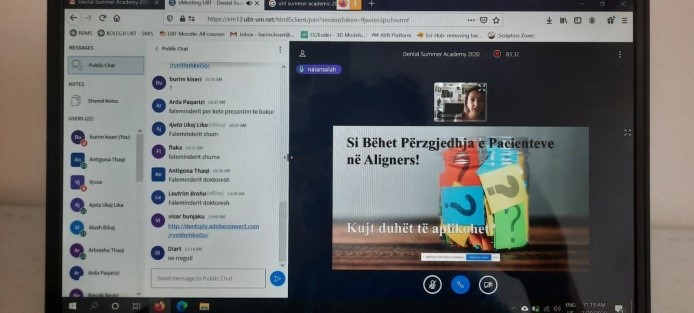 There was marked the opening of the Academy of Dentistry, and dozens of participants had the opportunity to follow their works online
21/07/2020
The Summer Academy of the Faculty of Dentistry has started its activity at UBT, within the Global UBT Fest 2020, on which occasion numerous thematic works and lectures will be presented over several days.
The opening of the academy was virtually made by the Rector of UBT, Prof. Dr. Edmond Hajrizi, who showed that part of the activities will be many students, young people, experts from the country and beyond. The Academy of Dentistry continued its work with the lecture of dr. Jeta Kiseri-Kubati, who made a presentation on the topic: "Orthodontic and its aesthetic role". Meanwhile, dr. Nalan Salah widely elaborated the topic with regard to "Invisalign treatment".
Furthermore, dr. Nexhmije Ajeti, for the online participants of this academy presented the lecture on: "Tooth Discoloration and therapy".The Summer Academy of the Faculty of Dentistry will continue its work in the following days, in which case it will be lectured on dental photography, dental education, use of technology in dentistry, etc.