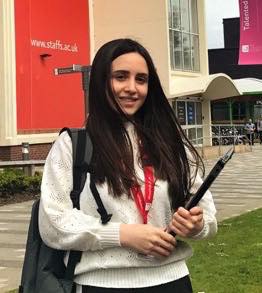 The UBT student, Trinë Ismajli, a web developer in the Austrian company "SCOOP & SPOOM"
25/04/2019
The UBT student from the Faculty of Computer Science and Engineering, Trinë Ismajli has been employed in the renowned Austrian company of marketing and design, "SCOOP & SPOON", where she works as a web developer.
Trina said that finding a job without even completing bachelor studies is a challenge and responsibility in itself, but she has achieved it thanks to the dedication and her continuous work.
"Thanks to the highly qualified professors, the assistants with whom we have held the exercises during the bachelor studies and my interest in this field, today I got employed without even finishing my studies.  Now I have four years of work experience, without stopping." – she said.
Trina said that she has many memories from her bachelor studies that gave her new experiences and turned her into a real professional.
"One of the events I would evaluate during the bachelor level of studies is the fact that I was granted with scholarships for two years because of my average grade. Also, I got certified with The Best Student of the Year Award during my Graduation Ceremony." – she added.
Trina has also benefited from UBT agreements with international universities, and during her master studies she was part of the student exchange program, where she completed one semester at Staffordshire University, UK.