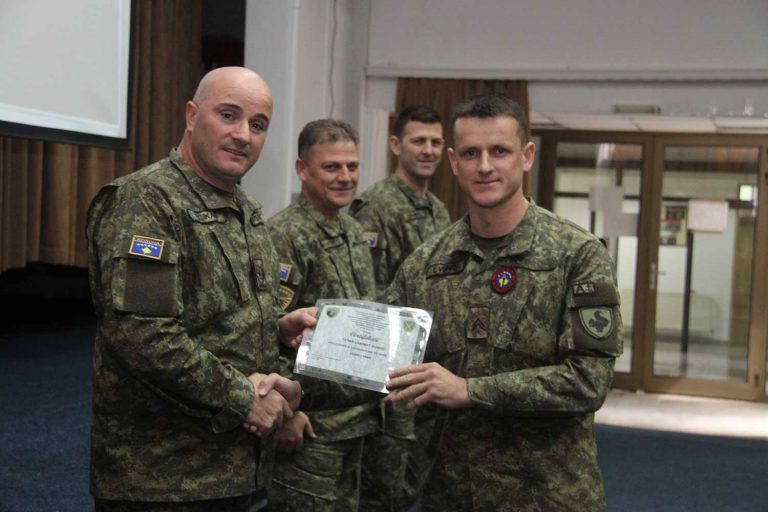 The UBT student, best soldier of the Operational Support Brigade
16/04/2019
UBT students, along with the professional training they take during their studies, are very successful also in their workplaces, even when their main duty is to take care for the security of the citizens and the country.
Such is the master student of the Faculty of Civil Engineering and Infrastructure at UBT, Labinot Vuniqi, who won the first place in a competition organized by the Armed Forces of Kosovo, where he is a Corporal in the Battalion of Logistics.
In this competition were tested general knowledge, physical test, ground navigation, and also there was held a 15-mile-long march.
The ceremony of the Best Solder of the Year within the Operational Support Brigade was held at the Command of Land Forces, "Adem Jashari", where the participants were: Commander of Land Forces (KFT), Brigadier General Enver Cikaqi, Commander of BMO Brigadier General Naim Haziri, BMO Commander, Colonel Avdi Rraci, Commander of the Civil Defense Regiment, Colonel Shaip Haziri, BMO Battalion Commanders, as well as KSF Officers and NCOs.
This competition within BMO was a preparation for the final competition of international character, which will be organized at the level of the KSF, at the end of April.
It is worth noting that UBT has been the institution that has supported with scholarships and trainings the first generation of KSF cadets, now Armed Forces of Kosovo.