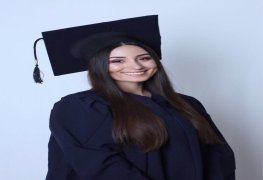 The former UBT student becomes part of Anhalt University of Applied Sciences in Germany
12/09/2018
The former UBT student of Architecture and Spatial Planning, Stina Shabani, is becoming one of the numerous international students of Anhalt University of Applied Sciences in Dessau of German which has enabled and facilitated for the first time a students mobility in collaboration with Erasmus+. In the framework of this incetive they had the opportunity to follow their studies in the winter term.
This semester fostered Stina to apply for continuing the Master Studies in the Anhalt University of Applied Sciences, where she managed to succesfully fulfill all the required procedures, owing to the fact that UBT has strongly contributed to provide her with in-depth knowledge and to offer the opportunity of studying abroad.
"Thanks to UBT, I was provided with the opportunity to visit this university. During my bachelor studies I have been prepared to attain a high academic level, which has helped me to be admitted in the Technic University of Vienna, as well as in the Anhalt University of Applied Sciences. However I opted for Anhalt University of Applied Sciences of Vienna" claims Stina.
She hopes that this university will meet her expectations concerned with the academic level, due to the fact that this institution has a unqiue study method as far as the field of architecture is concerned. "I have great expectations to follow my studies in Germany because the Anhalt University pays a lot of attention to incorporation of technology in architecture and a distinctive feature of this university are the subjects such as; Art of Robotics, and Parametric Design. A comprehensive and basic knowledge of this subjects is of significant importance. Unfortunately, those subjects are not offered in all universities so I consider myself lucky", has said Stina.
She wants to be a good example of the student who has been rewarded from hardworking. Moreover she emphasizes that UBT has consistently rewarded the top students by facilitating them to follow their further studies abroad.