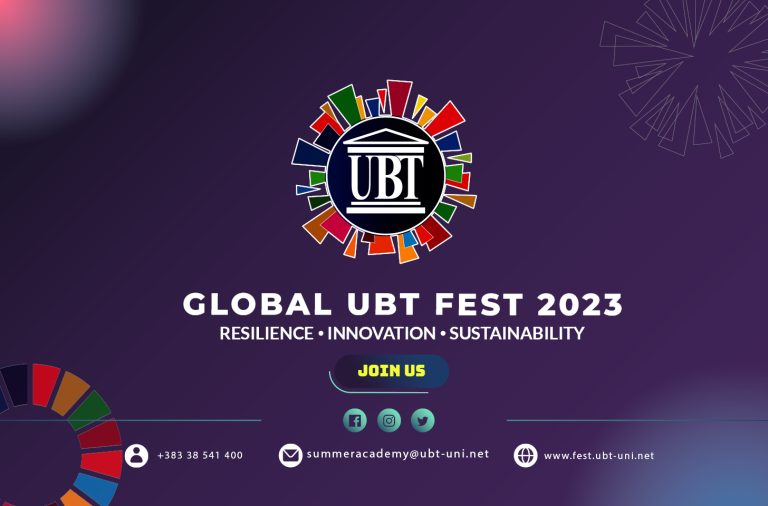 Registrations for the International Knowledge Festival "Global UBT Fest 2023" have officially started
14/06/2023
This year, Kosovo, through "Global UBT Fest," will once again become a destination for many experts, scientists, politicians, as well as international artists. The largest knowledge festival in Europe, "Global UBT Fest 2023," is coming this summer with competitions, workshops, simulations, projects, lectures from experts, and the best professors from around the world.
Young people from Kosovo and beyond participating in "Global UBT Fest 2023" will have the opportunity to gain an unforgettable life experience, preparing themselves professionally and intellectually, as well as enjoying various activities. They will have the chance to create new friendships and exchange ideas and experiences with many young participants from the region and the world.
Around 30 International Summer Academies are integrated into this festival, and participation is free for everyone. From July 1 to July 31, you can be part of these academies:
Computer Science and Engineering;
Architecture and Spatial Planning;
Art and Digital Media;
Integrated Design;
Management, Business, and Economics;
Political Science;
Security Studies;
Efficient Energy;
Information Systems;
Law;
Media and Communication;
Modern Music and Production;
Mechatronics Engineering;
Construction Engineering and Infrastructure;
Disaster Management and Infrastructure;
Nursing;
Tourism and Development;
Agricultural Engineering and Environment;
Food Sciences and Biotechnology;
Psychology;
English Language;
Dentistry;
Pharmacy;
Anesthesia Technology;
Radiology Technology;
Student Counseling Center;
Career Orientation Office;
Sports Science and Movement;
Junior Hub;
Vocational Schools.
APPLY NOW
For more information about the application process and the overall UBT Virtual Academic Festival, you can contact via email: [email protected], or visit the link: https://fest.ubt-uni.net/2023/