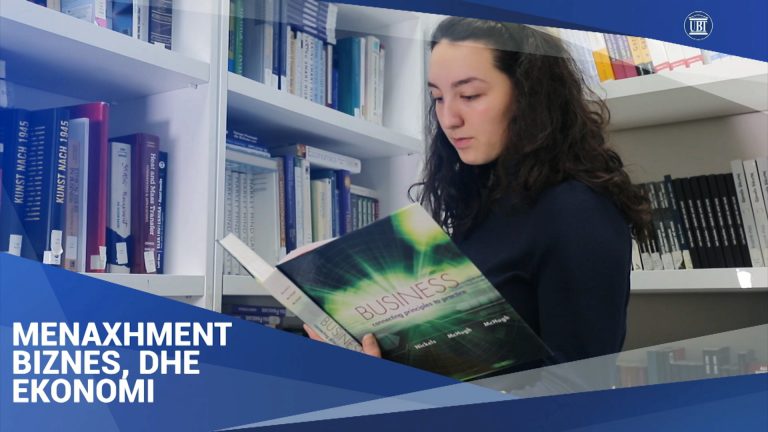 Make you dream come true and become an economics expert by studying MBE at UBT
08/09/2020
Your dream of becoming a full-fledged expert in economics, engineering, public procurement, marketing and sales, entrepreneurship and investment promotion and economic development is being already shaped. UBT has established study the Management, Business and Economics program, which offers two levels of study: Bachelor and Master. In the meantime, the study program is part of the success and achievements in the country and the region as whole.
Due to the modern infrastructure and information technology labs and state-of-art software, including convenient classrooms, they make the Management, Business and Economics a unique study program. As a result, UBT remains the only institution in the region, which has implemented in teaching process CLASSROOM 3.0 with its students, thus proving the quality, quality, and professionalism.
Therefore, UBT through partnerships with its international friend's, offers students the opportunity to exchange programs and study visits to the best universities in the region and the world. Part of the study program at the Faculty of MBE is the collaboration with industry, where during the studies students are offered opportunities for practical work in various sectors such as: financial institutions, insurance companies and commercial businesses.
Within the framework of the Bachelor study program, the Faculty of Management, Business and Economics, UBT offers the following specializations:
Finance, banking and insurance;
Accounting, auditing and taxes;
Marketing and sales;
Management, entrepreneurship and innovation;
International Business;
In the framework of the Master program of the Faculty of Management, Business, and Economics, UBT offers the following specializations:
Finance and bank accounting;
Marketing and sales;
Entrepreneurship and innovation;
Procurement logistics and management;
UBT remains the only institution in the region that is using with its students classroom 3.0
Program information: http://study.ubt-uni.net/mbe/
Apply NOW: https://apliko.ubt-uni.net/