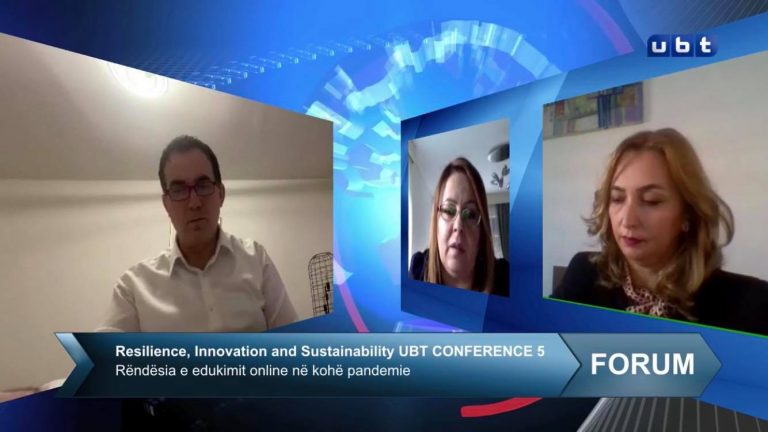 In the online conference of UBT was tackled the importance of online education in pandemic periods
09/04/2020
Within the framework of conferences on elaboration of topics of particular interest in pandemic time, which UBT is continuously organizing, the topic tackled in this conference was related to the importance of online education and the steps to be taken were addressed, which facilitates students to attend their studies online. The conference was publicly available through the platforms UBT Television, Radio Campus, as well as UBT's Facebook, Instagram and YouTube pages.
The opening session of the conference was carried out by the Rector of UBT, prof.dr. Edmond Hajrizi, emphasizing that the delay in the field of education is the biggest loss caused to an individual and a nation. In this respect, he added that UBT at this time of pandemic has promptly acted, by providing its students with quality distance learning. Therefore, Hykmete Bajrami, Minister in the Ministry of Education, Science, Technology and Innovation, thanking UBT for the opportunity given to discuss the challenge we are going through, stressed that this situation for the Ministry of Education in Kosovo for pre-university studies was at a large scale a challenging process. "Actually, owing to the voluntary work and commitment of the whole team, we are able to offer online lectures with a coverage of about 70% of the planned lectures," added Minister Bajrami. Besides that, she said that the first challenge that the country will face in the field of education is the assessment of students because there is diversity of platforms used, and, according to her, it will be a challenge to hold the seminar and Matura test, but now for there is still no decision in this regard.
"From the information that we as the Minister have received, we have been informed that UBT is one of the institutions of higher education, one of the first that in the first days after the declaration of pandemic has started the application of online education. Also, the statistics show the attendance of lectures by a large number of UBT students in distance learning, and this fact makes us happy and we are grateful to all those who have acted equally in this regard, "said Minister Bajrami. Meanwhile, the Minister stressed that the lack of digitalization of schools, didactic materials and unified forms of treatment and use of applications and technology at all levels of education in Kosovo is a major handicap.
Contrary to UBT for MEST, it has been at a high degree challenging and in fact we had to start everything from the beginning. UBT has already started using online platforms for distance learning, which you have easily adapted after the announcement of pandemic by the WHO. However, implementing this practice at the pre-university level it has really been challenging. All stakeholders have joined this project in order to be successful ", she stressed. Following the conference, the director of education in Prishtina, Shpresa Shala, emphasized that online education at the preschool, primary and secondary level is being successfully developed where teachers through the guidelines provided to MEST, are conducting lessons through Google class platforms room and Google zoom."In the municipality of Prishtina, over 70% of students are involved in online learning from elementary school to high school ", stressed Shala.
"The lessons which are displayed on television are based on the results of the new curriculum. In this regard, professional schools started teaching and fortunately there is greater participation and concentration among students in this period ", pointed out Shala. Director and higher education expert, Drita Kadriu, referring to education dictionaries about explaining the notion of e-learning, stressed that e-learning is the conveyance of knowledge and their return to skills, through electronic devices. "Learning online during pandemics is a misfortune," underlined Kadriu.
As far as Kadriu was concerned, e-learning is one of the most useful mechanisms for teaching development. Indeed over the 19th century it was the key tool which largely contributed to a more rapid access to information. Despite that, she stressed that the three key elements that teachers should bear in mind during this time are: not to distract attention from scientific content, pedagogical knowledge of scientific content and knowledge on the use of technology.
"Online learning should be one of our priorities. As a result, I propose to create an e-learning office that has not yet functioned within the MEST, and this sector should continue to carry its responsibilities," she noted. "This conference is contributing a lot to the social debate that is taking place about online learning in times of pandemic and has activated all factors such as students, parents, teachers and interest groups that are involved in the education system," added Director Kadriu.
Moreover, Professors Naim Preniqi and Besnik Skenderi, who are carrying out the online course, put it that this form of study is new, but not difficult to implement, because UBT, as an innovative and recognized institution for technology, is already prepared for any situation and to communicate and interact even in pandemic times, when our students are not physically present in lectures. Meanwhile, our students Duresa Tafa and Edonit Beluli, who were part of the conference, welcomed this form of study with great enthusiasm, as they are not lagging behind the learning process, they are saving time and emphasized that through this platform they are develop a new culture of learning and this form being provided through UBT has surpassed their expectations.
You can watch the full video conference at the link: https://www.youtube.com/watch?v=jjsLiLHFKt0