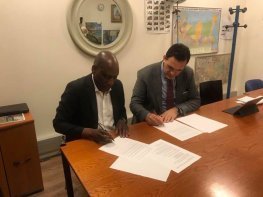 For the first time, UBT offers a double diploma of studies with CASS Europe in France
14/08/2018
Students who choose UBT from now on will have the chance of possessing a double diploma from France also, resepectively from CASS European Institute of Menagement Studies. This is a result of cooperation establishment between UBT and CASS Europe, aiming to providing opportunities for common studies between the two institutions.
Thanks to this deal, students will be having the chance of studying bachelor, master and the accredited programs of doctorate. On the other hand, they will finish the studies partly in UBT and partly in CASS Europe.
The common studies for students will be offered in these fields:
Bachelor of Business Administration
Master of Sciences in Management
Master of Sciences in Industrial and Organizational Psychology
Master of Bussines Administration
Doctorate in Bussines Administration
Doctorate of Management Philosophy
Parts of accredited programs in UBT.
This is a very important step towards further internatinalization of education in Kosova, through which Kosovar students will be the ones to directly benefit from it.