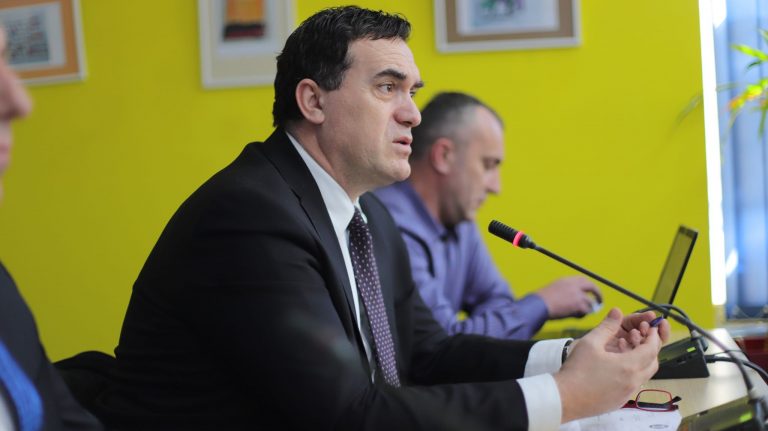 UBT Rector Hajrizi: Cyber Security remains a challenge, there has been witnessed an increasingly high number of attempts to break bank accounts
04/02/2020
Cyber security continues to face numerous problems, challenges which are straightforwardly affecting institutions, individuals and especially the banking systems. Among others, UBT Rector Prof. Dr. Edmond Hajrizi emphasized that the attempt to break bank accounts has been increased to 50%. The main purpose of these acts is to have access on the data. Besides that, he highlighted these at the European Day for the Protection of Personal Data, in a workshop on "Privacy in the Digital Age II", organized by the CSP community, in collaboration with UBT. Therefore, Hajrizi underlined that in 2020 artificial intelligence will be implemented and every object will be connected to the internet, whereby Kosovo will keep up with world trends.
"There are aspects that undermine security and privacy. Additionally, with the rapid technological developments it has boosted the complexity of this issue as well as there are various interests to consider the data issue. As a result, 50% increased the attempt to break bank accounts this indicates a strong interest in accessing bank data. In 2020 artificial intelligence will be implemented, we will move on to another cybernetic. We lack cyber security staff. But every object will be connected to the internet," emphasized Hajrizi.
Despite that, he also said the coping with staff shortages as far as the field of cyber security is concerned. However, it is worth emphasizing that UBT is the only higher education institution working in this field, working on accreditation of new programs and graduation of professional generations in these fields.
"Kosovo has been subject to a rapid growth in this perspective and our young people are keen on working in this direction. This creates an international environment of appreciation. Kosovo professionals are very active and as matter of bear a high level of professionalism. We lead the religion 90% of citizens use the internet. UBT is highly committed and is constantly working in this field, as an institution we apply for new programs every time, in order to create staff that help the process because we are still lacking ", underscored Hajrizi.
Furthermore, Mentor Hoxhaj from the CSP presented the results of research on institutions and public bodies and knowledge of GDPR and the new data protection law, as well as citizens' privacy concerns, which showed that over 84 percent of those who participated in the research were concerned about internet security and privacy.
Moreover this research is about the law on protection and the second one about the perspective of citizens in security. 62.5% of institutions lack knowledge, 63% is not prepared. 62.3% are not aware of their rights. Impact of privacy 47% do not rate", 15.3% are not concerned while most are related to privacy. Online privacy is more important for 66.9%, while in written documents it is only 34.6%. 58% are not aware of their rights they have in this regard, 81% receive messages or even direct marketing", emphasized he. The workshop brought together representatives of state institutions, representatives of technology companies, as well as students in these fields, who discussed about the challenges of cyber security.