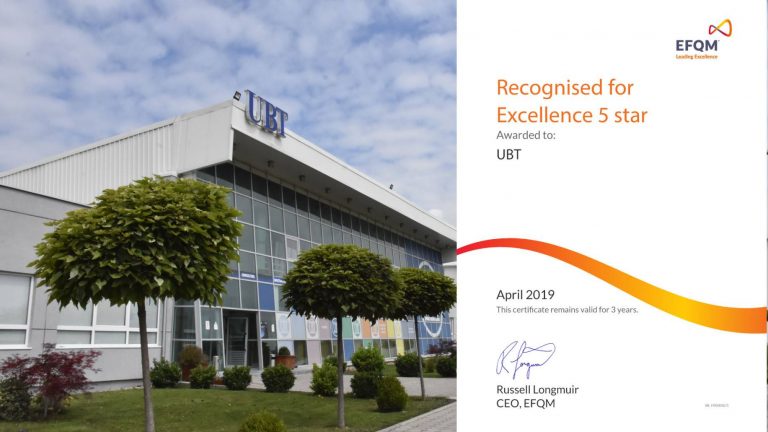 UBT is certified and awarded with the Five Star Excellence Award
19/06/2019
The 20th Anniversary of Liberation has been further enriched by a prize awarded to one of the most renowned higher education institutions of Kosovo UBT. Indeed, it is not the first time that the institution has upraised the name of Kosovo in all corners of the world in aspects related to education, science, innovation and excellence.
These days, the World Excellence Council, specifically the European Foundation for Quality Management (EFQM), confirmed what is already known – UBT is certified and evaluated with the Five Star Excellence Award.
With this assessment, which is a continuation of the previous assessment, gained in 2014, of the organizational level of excellence, UBT enters among the many prestigious universities from all over the world that are rated with excellence in higher education.
UBT Rector, prof. dr. Edmond Hajrizi emphasized that EFQM evaluated UBT and policies implemented by this institution, enhancement of skills for managing which surpass aspects of a mere organizational hierarchy.
Furthermore, Hajrizi assessed that rapport compiled by this organization has concluded that UBT has a crucial role in supporting community, industry etc.
"UBT has greatly contributed to Kosovo which is clearly witnessed in many ways. It is an undeniable truth that both local and central government. UBT has surpassed all expectations regarding the increase of employment rate and fulfillment of expected objectives. When the team of experts asked if the recruitment process has met all requirements and if consistently carrying out developments in this aspect." – highlighted Hajrizi.
Meanwhile, the expert of Excellence, Andre Haynes pointed out that UBT is an example which shall be followed by other institutions.
"I think that UBT is a unique institution regarding the commitment and professionalism of academic staff."- pointed out Haynes.
In addition, he has given these impressions after having a close affiliation with this institution.
Moreover, he highly assessed UBT engagement in fulfillment of criteria related to excellence. "UBT is an impressive considering all perspectives. Each institution which applies for the prize of excellence EFQM has to assure beforehand that there are fulfilled all the required criteria which are set by this model. UBT has attained great achievements and fulfilled the whole range of criteria required by EFQM. Otherwise it wouldn't have been awarded the prize of excellence of five starts and 500+ points" – underlined Haynes.
There are a large number of universities and colleges which apply for the excellence model in order to be awarded the prize of Excellence, but only a few of them succeed to surpass the limit of 500+ points.
"A large number of companies belonging to different scopes are striving for perfection by implementing this model. As a result, this has strongly aided them to carry out the necessary improvements. However, just a few institutions all over the world have managed to achieve more than 400 points, almost only 1/3 of the total. Undoubtedly, UBT has done a great achievement in international level by earning 500+ points." – he added.
According to him UBT may be considered a leader regarding higher education institutions.
"There is not any other institution in Western Balkans which has implemented excellence model as UBT and I think that this has come as a result of international collaborations with similar European institutions. In many European countries, such as Slovenia and Rumania has been done a lot in other fields, but not in education. UBT is leading higher education institution." – he said.
Besides this, UBT has been awarded with many prizes and has been also certified with ISO Standards.