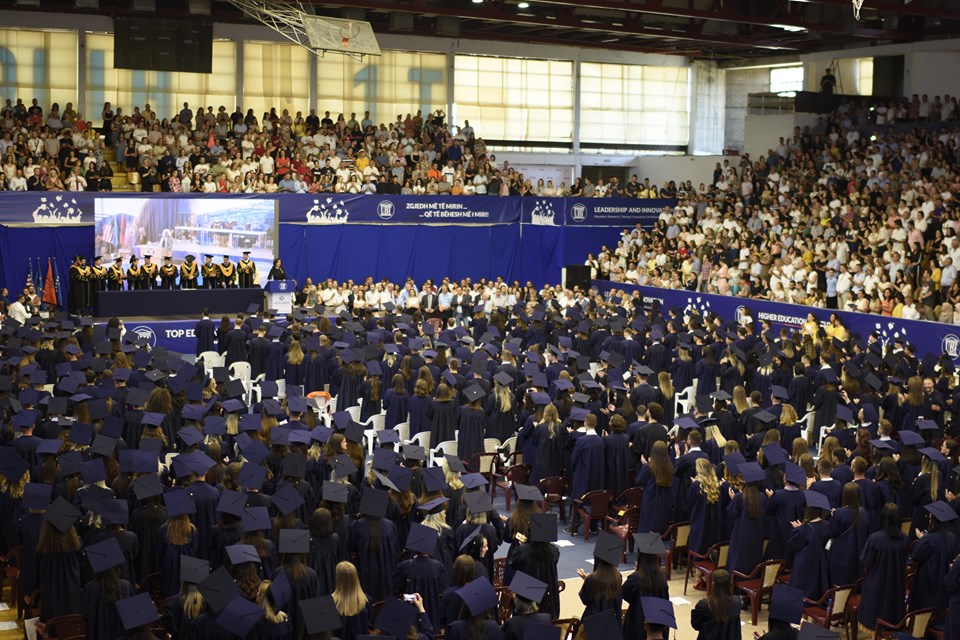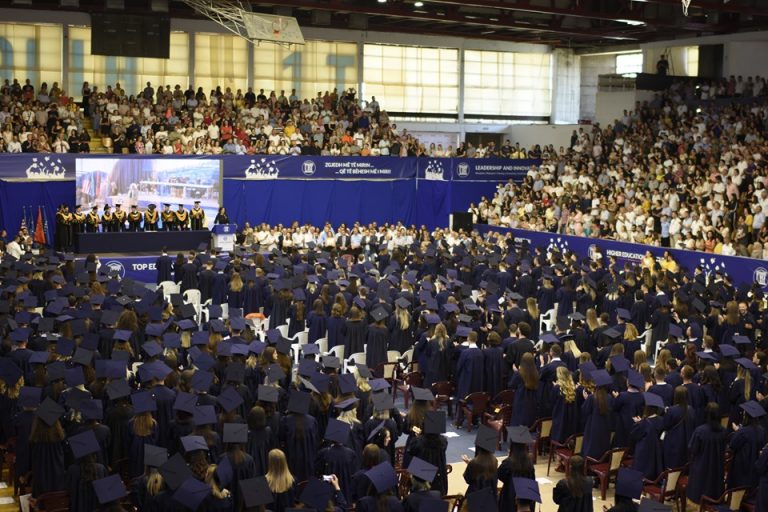 UBT held the graduation ceremony for academic year 2018/2019
08/07/2019
This event makes a new milestone for more than 800 students who completed the first cycle of their studies regarding their respective professions and were eagerly awaiting this moment.
The rejoicing atmosphere which dominated in the auditorium was enriched by the presence of thousands of professors, student relatives who gave their priceless contribution and helped them to achieve their goals.
UBT Rector prof.dr Edmond Hajrizi availed from occasion to express his gratitude to parents and academic staff for their contribution as well as emphasized that this success has come as a result of consistent hardworking throughout these years, with aim of conveying knowledge to students. " There is an increasing demand from companies to employ qualified and skillful staff and as matter of fact we are committed to build well-shaped generations for those who trusted their education to UBT", underlined Hajrizi.
Apart from others he mentioned the high rate of employment witnessed by the statistics, which is one of the underlying pillars of our institution. "As a result we have highly contributed to reduce at a large scale the level of unemployment in Kosovo. It is worth emphasizing that 98 from 100 students are immediately employed without having completed the first cycle of their studies.  pointed out Hajrizi. Unodubtedly I'm quite optimistic that students who are present in this auditorium will be demanded in the labor market", pointed out Hajrizi.
Moreover part of this event was also the renownded professor from State University of Rome Paolo Parisi who recalled in his memories the first time he had visited Kosovo when the severe wounds of war were still evident in bodies and minds of citizens. Contrary to this dark reality, now I'm impressed by the great achievements of UBT students.
"Contrary to my previous memories, now it's obvious that you have done much progress and will be the future leaders of this country. You should be proud for these achievements and grateful to your parents and professors who brought you here", underscored Parisi.
The students representative Blert Podvorica highlighted some of the successes of UBT students during this year as well as advised his colleagues to work together to build Kosovo and honor the institution where they gained the basics of their professional background.
After taking the academic oath they received certificates and at the end of ceremony students threw away their academic caps which which symbolizes the end of a graduation ceremony.