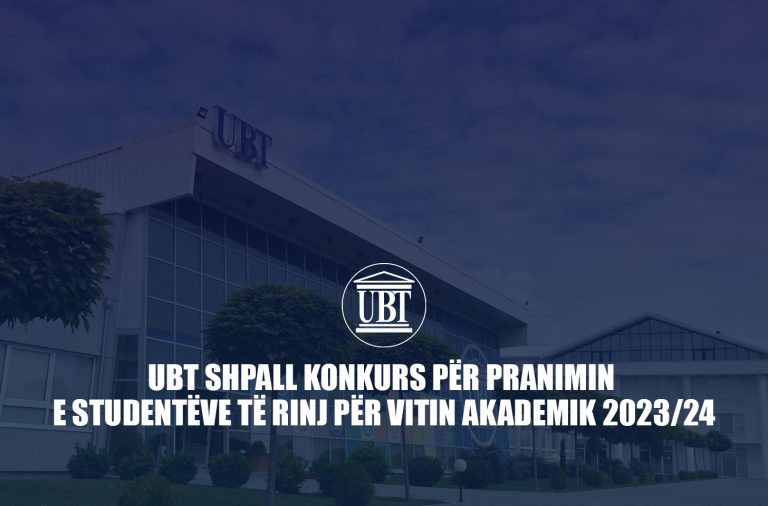 UBT announces a competition for the admission of new students for the academic year 2023/2024
26/06/2023
UBT declares the regular public competition for the admission and registration of new students for the academic year 2023/2024 in all study programs accredited by the Kosovo Accreditation Agency and licensed by MAShTI.
The right to compete and register in undergraduate studies (Bachelor) is granted to all candidates who have completed higher secondary education and have successfully completed the national matriculation exam.
For registration in Master's studies, it is required that the candidate has completed Bachelor's studies.
UBT's campuses and registration centers in Kosovo:
Pristina
Lipjan
Prizren
Peja
Ferizaj
Gjilan
International mobility/scholarships:
Erasmus+
CEEPUS
PoSIG, etc.
Joint studies:
Warsaw University, Poland
University of Northern Iowa, United States of America
Sapienza University of Rome, Italy
Vienna University of Technology, Austria
Parthenope University of Naples, Italy
Danube University Krems, Austria
CIFE, Nice, France
Semmelweis University, Hungary
University of Salzburg, Austria
CEEPUS Program, Bulgaria
City University London, England
Waterford Institute of Technology, Ireland
Language of studies:
Albanian language
English language
Possibility of studying in other languages
For guaranteed success, UBT offers students:
Guidance and professional internships, courses, study visits, and certifications
Online system and computer access
Free licenses for software
Internships in local and international companies
Library with over 200,000 titles and access to global electronic libraries
Practices and experiments in modern laboratories
Training: CISCO, Microsoft, AutoCad, IPMA, etc.
Certifications for accountants in collaboration with SCAAK
Students applying for undergraduate studies should attach to the application:
National matriculation certificate – original or notarized copy
High school diploma – original or notarized copy
High school transcripts – original or notarized copy
Birth certificate
For more information about study programs and opportunities offered by UBT, please follow the link: ubt-uni.net
Choose the best to become the best!