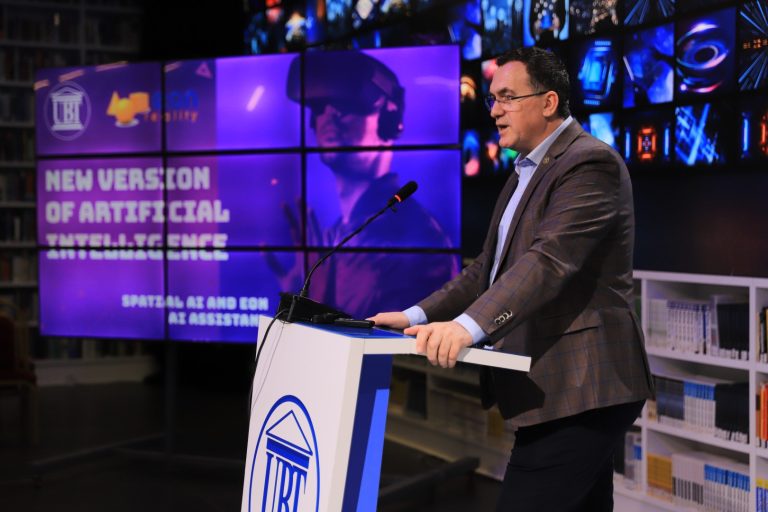 UBT and EON start with the new version of AI, this project exceeds the figure of 30 million dollars
29/03/2023
UBT and EON Reality are starting with the new version of artificial intelligence "SPATIAL AI and EON AI ASSISTANT", in a project that exceeds over 30 million US dollars, which is one of the largest investments in the world in terms of science and technology in the field of education, thus making Kosovo part of the world leadership of modern technologies.
In a press conference, the President of UBT, Prof. Dr. Edmond Hajrizi said that investments in technology like this with artificial intelligence are more necessary and very important for young people and students for a future that is changing day by day.
"I am very happy that together with EON Reality we are bringing a project that connects different technologies, implements and uses structures that bring a product or system that is based on logical content in artificial intelligence. This program, in addition to being the largest and only centre in the Western Balkans for Virtual and Augmented Reality, offers the students and young people of Kosovo new services and opportunities for combinations with Artificial Intelligence, which are our goals, and we will always offer them the newest updates that the world of technology develops throughout the globe", said Rector Hajrizi.
Through this technology UBT will help its students study more efficiently and retain information longer with AI-driven content, at the same time it will help professors create their lessons and courses with much less time and effort.
"Partnering with UBT has always been a pleasure for everyone involved and I look forward to seeing how they manage to maximize the functionality of the EON AI Assistant," said the president of the giant virtual technology company "EON Reality", Dan Lejerskar, in an article published by EONReality.
He has added that UBT has been one of the most productive creators among all partners and that this technology will only strengthen the role of UBT in this regard.
EON Reality's partnership with UBT will provide students and programs with access to these Artificial Intelligence (AI)-powered solutions, enabling them to deliver immersive experiences that move the field of education forward at every level.