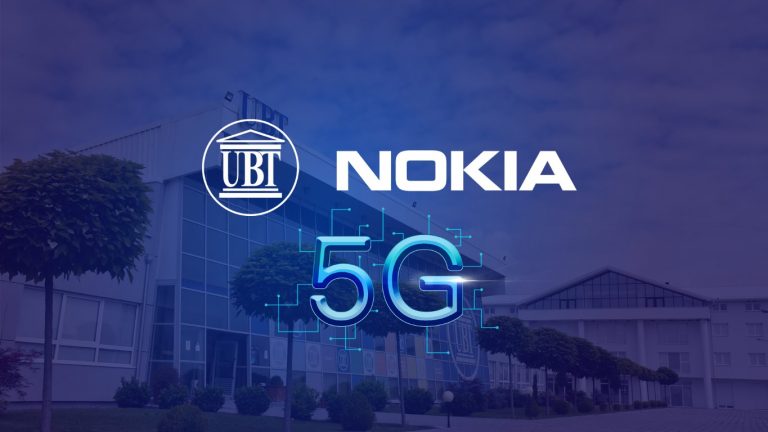 Through "Nokia" UBT brings the 5G network to Kosovo
16/03/2021
Through the Finnish telecommunications company "Nokia", UBT is bringing for the first time in Kosovo and the region the 5G network, which enables the extension of the fifth generation of wireless mobile network technology known as the future of the Internet.
Under an initial three-year agreement, Nokia will provide UBT with 5G SA private wireless connectivity. This will enable development of 5G-based research and testing for a number of use cases driven by immersive, Internet of Things (IoT) and AI technologies, as part of efforts to drive research and innovation.
The 5G network will be based on Nokia Digital Automation Cloud (DAC), a digitization platform that is capable of delivering reliability, high traffic speed and reducing delays during various real-time communications using different technologies.
Rector of UBT, prof.dr. Edmond Hajrizi, said that the extension of the 5G network in Kosovo is an important development for Kosovo in the digital economy of the country.
Edmond Hajrizi, Rector said: "The expansion of the first 5G private network in Kosovo will enable us to stay at the forefront of research and development at the local level.  It provides immense impetus as we explore new applications that we believe will drive innovation and will have an impact on the Kosovan digital economy in general".
In a statement issued by Nokia, Sales Director for Southeast Europe, Michael Siegel said that this investment by Nokia in cooperation with UBT means a major development for both parties in the region.
Michael Siegel, Director Sales, Nokia Enterprise South-East Europe, said: "UBT's investment in 5G with Nokia represents a major breakthrough for both organizations in the region. Internationally, we see leading research institutions turning to the reliable, secure and high-bandwidth capabilities of 5G to accelerate their research into immersive, IoT, analytics, AI and automation – which all contribute to advancing Industry 4.0."
According to the officials of this company, "UBT" is supporting young people in their ambitions to create a knowledge society, working with public and private enterprises, in order to establish the necessary infrastructure that supports research, development and innovation.
Nokia is the main contributor to the mobile phone industry, as it has helped develop GSM, 3G and LTE standards, and currently 5G, and was once the largest retailer of mobile phones and smartphones worldwide.
UBT was founded in 2001. With many accredited programs, 10 thousand students, 1 thousand employees, science and technology park, research and development institutions, centers, entrepreneurship and innovation laboratories, various technology centers and media, UBT has created an ecosystem.
Moreover, UBT is the institution that has placed the educational process on the virtual reality platform, offering the full implementation of CLASSROOM 3.0 and now becoming the 5G University Campus, will succeed in becoming one of the most progressive and most advanced universities. estimated in Southeast Europe.