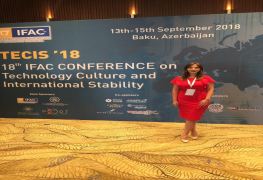 The UBT lecturer Ines Bula has earned the title of the best young scientist
24/09/2018
The former UBT student Ines Bula, PhD Candidate has been awarded the price as the best young scientist in the international conference "TECIS 2018", leaving behind hundreds of papers from renowned scientists coming from 38 countries, who were assembled in Baku of Azerbaijan to display their scientific innovations.
This price has come as a result of ceaseless work in her thesis "Robots from mechatronics remnants of Beggar Robot. Indeed this is her topic of the doctoral studies.
The so called "Beggar Robot" is a product of this research which has been entirely carried out in the UBT labs, with the help of UBT Rector prof.dr.Edmond Hajrizi and Valmir Hoxha a lecturer at UBT as well as some students coming from the faculty of mechatronics.
The paper assumes a new possibility of using mechatronics remnants, from the process of building and developing robots. Her concept has been strongly supported by the steering committee of the conference, which undoubtedly led to her success.
These robots are low-cost oriented and functional for a broad scope of activities. Respectively they may aid the education process as well as that of preservation of environment by inserting these remnants.
The author of this paper Ines Bula emphasizes that without the support of UBT she would find it impossible to achieve these results. Moreover, she underlines that without the endorsement of the Rector it was rather impossible to follow her doctoral studies in the Technical University of Vienna. She has expressed her willingness and commitment to share her acquired knowledge with the upcoming generations and help them to boost their academic level.