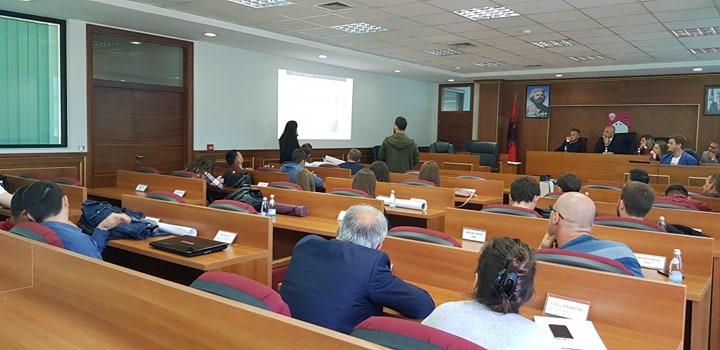 The representatives of Skenderaj and local architects were impressed by urban design proposals of UBT students
14/05/2019
The third year students of the Faculty of Architecture and Spatial Planning presented their conceptual urbanistic projects for the Municipality of Skenderaj, which were a work done during the whole semester, conducted under the mentorship of the lecturers at UBT, dr. Binak Beqaj and teaching assistant, Modest Gashi
The ideas and concepts provided by students regarding the field of urbanizing were heard and welcomed by the head of Skenderaj Municipality, Bekim Jashari, from representatives of Urbanizing Directory from this municipality and also from local architects, who highly appreciated the work done by the students.
Architecture students, divided into five groups, prepared five different urban design proposals, which, according to current architects who evaluated the work of students, exceeded their expectations with the high level of professional performance and the courage to bring innovative ideas into their projects.
The mayor of Skenderaj, Bekim Jashari, while congratulating the students for their creativity and commitment to make Skenderaj a more beautiful city in urban terms, said that they will do their best to bring these projects to life.
Professor of the subject "Urban Planning", dr. Binak Beqaj highlighted that all the work of the students was done on voluntary basis, while, according to him, such work is extremely important as it represents the symbolism of the interconnection between the academy and the institutions.
UBT Architecture Students have been implementing project proposals for different municipalities of Kosovo for several years now and many of them have been already realized.