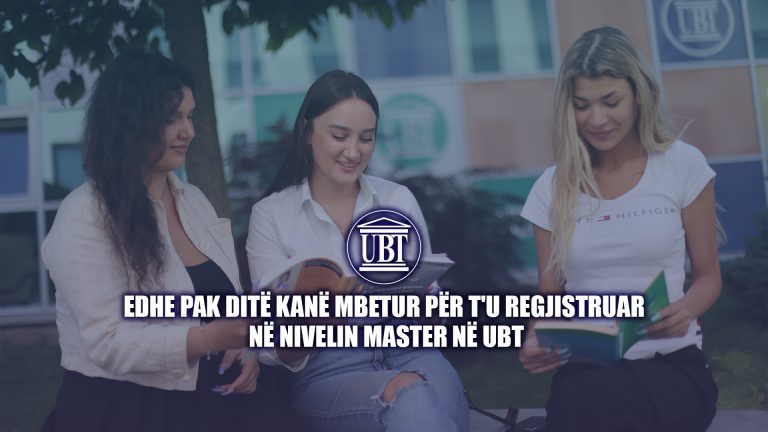 Just a few days left to become part of UBT at the master's level
01/11/2023
There are only a few days left to make your important choice, to join an institution that offers you all the opportunities to be the best and to benefit from the unique specializations that UBT provides.
The choice of the academic institution where you will build your professional and academic career is very important, and therefore, this choice should be given special attention.
As the most innovative institution in higher education in the country, which increasingly facilitates opportunities to study in all areas of life that we face every day, UBT has provided students with modern conditions and quality studies with the most eminent professors in the country and the region.
Obstacles during the academic journey should not appear at all, and UBT is constantly working to eliminate the problems that students face, on a journey that is extremely important for their professional development.
As a regional academic center for economics, engineering, architecture, trade, politics, justice, science, and innovation, UBT offers 17 master's study programs, with unique specializations for all interested candidates.
UBT's commitment to this aspect is very great, as future generations will lead Kosovo towards great successes, towards the most important processes of the country, and will play a key role in identifying and solving problems. And for this reason, UBT is preparing the new leaders.
You can continue your studies in master's programs:
Architecture and Spatial Planning;
Criminal Law;
Construction and Infrastructure Engineering;
Media and Communication;
Mechatronics Engineering;
Management, Business, and Economics;
Modern Music, Digital Production, and Management;
Public Health and Management;
Computer Science and Engineering;
Food Science and Technology;
Information Systems and Management;
Development and Urbanism;
Health and Physical Activity;
Paramedical Sciences;
Biochemistry;
Civil and Property Law;
Pharmacy.
As an academic institution known for its exceptional research work, UBT has around 500 cooperation agreements with educational institutions and other partners from the industry worldwide.
Join UBT, develop your skills to the next level, in a community of young leaders who focus on study, development, research, and achieving their goals in their respective fields, in this academic institution.
The necessary documents to register at the master's level at UBT are: Notarized diploma, CV, copy of ID, and birth certificate.