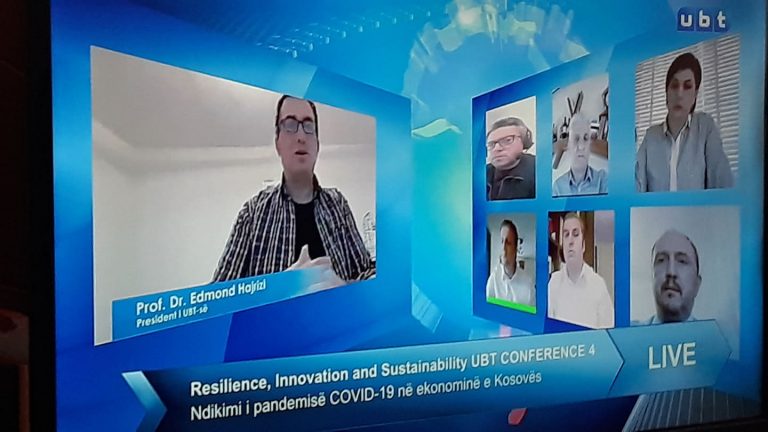 Experts: Kosovo will face numerous economic consequences as a result of corona virus
09/04/2020
Since a few weeks ago when Kosovo's government undertook preventive measures, such as closure of schools, universities, bars, restaurants as well as shopping centers. The only activities which were remained open are shops and pharmacies. As a result, the global pandemic is estimated to have a negative impact on economy, particularly in the business sector.
Among others, in the video-conference namely, "The impact of COVID-19 pandemic on Kosovo's economy", organized by UBT has been transmitted by UBT television as well as Radio "Campus" with frequency 100.7 FM. Meanwhile it has been also directly transmitted in social networks such as facebook, instagram and you tube.
The opening session of the conference has been carried out by UBT Rector, prof.dr. Edmond Hajrizi. At the meantime, it's worth emphasizing that in this meeting also participated renowned professors and experts, respectively Ardian Uka, Mentor Geci, Hashim Rexhepi, Artan Mustafa, Merita Gjushinca and Nazmi Zeqiri.
In addition, experts from the sector of economy emphasized that the government of Kosovo has foreseen in the budget of 2020 a growth of 4.2 %, but as a consequence of global pandemic COVID-19, the country is expected to cope with an economic slowdown.
Despite all, they underlined that consequences in economy may be of great significance and this virus will adversely affect the business sector.  According to the, almost each year the remittances from immigrants are approximately 1 milliard euro. On the contrary, this year will have a drop of remittances and caused as a result of social unrest.
Furthermore, the experts who were part of this discussion put it that along with COVID-19, Kosovo will also cope with an "economic pandemic" during 2020-2021. Due to the fact, this situation asks for liquidity in economical perspective. Consequently, there was required to set up a task force, responsible for providing solution to this situation.