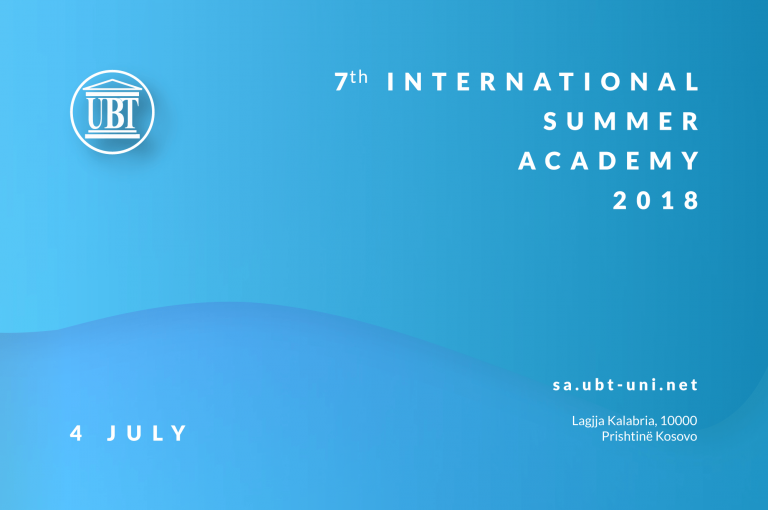 During July there will take place the International Summer Academy of UBT
29/05/2018
UBT is going to organize the  International Summer Academy for seventh consecutive year. The International Summer Academy will take place from 4-25 July 2018.
Therefore, in order to highlight the significance of the academy, there have been invited both local and international professors, experts and well-known enterpreneurs. It's worth mentioning that apart from lecturing they will also provide and organize a wide range of activities such as discussions, forums, workshops, study visits, sport races and competitions as well as other activities.
The academy which will take place this year has taken into consideration the large number of requests for increasing the number of fields. Due to the fact the academy will extend its activity in 20 different fields, wherein there will be held discussions about the latest innovations in the global perspective.
The fields of studiy which will be elaborated during the academy are as follows:
Computer Science and Engineering;
Management, Business and Economy;
Political Science;
Efficient Energy;
Information Systems;
Law;
Media and Communication;
Management of Mechatronics;
Architecture;
Building;
Finance, Banks and Insurances;
Food Science;
Integrated Design;
Nursing;
Cyber Security;
Sustainable Tourism;
Psychology;
Mjekësi e Përgjithshme;
Dentistry;
Pharmacy;
Education;
Diaspora and its role;
The students will be certified after the end of the program and earn 2-4 ETSC credits that are have an international recognition.
Contact sa@ubt-uni.net for more information about the method of application and the International Summer Academy in generally speaking.