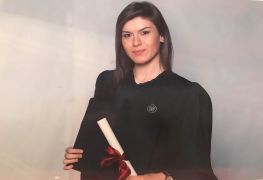 Anesa Mustafa is the best example of the student who was granted a scholarship thanks to UBT partnership
18/09/2018
Being transferred from UBT to Anhalt University of Applied Sciences marks a new milestone in her life that permanently changed her life for the better. Similar to many other youngsters her dream has always been to study abroad.  Anesa's dream came true and marks in itself an outstanding success.
She is a student of the Faculty of Architecture and Spatial Planning in UBT, where she finished her bachelor studies and acquired basic knowledge concerned with her profession.
However the eagerness to become part of a new experience in order to fulfill her ambitions related to her career fostered her to apply in the renowned German university
Anhalt University of Applied Sciences, where she will broaden her knowledge capacities as far the style of architecture in the most developed European countries is concerned. She will embark on with her experience starting from October.
However her underlying objective is not to continue her career in Germany but to come back to Kosovo and actively contribute to her country.
"Personally I see the process of studying in Germany as an outstanding opportunity for not only for but even for my colleagues as well as for my country. My chief goal is to attain an utmost professional preparation and to utilize it as a resource for my country and society as a whole", said Anesa.
Despite of the Bachelor studies in UBT, she also initiated her Master Studies were thanks to the close cooperation of UBT with the Anhalt University of Applied Sciences managed to continue her Master Studies there.
"The close cooperation of UBT with Anhalt University has created great opportunities for its students. This comprises in itself an aid for students who choose UBT as the right institution to follow their academic studies" emphasized Anesa.
In this perspective its worth pointing out that professors had great role in her success and have always been willing to support her every moment.
"We have been hosted and welcomed from the Anhalt University and this comes as a result of UBT partnership with this institution. Our professor have witnessed their devotion to support us during the whole process", claimed Anesa.
Actually, there is a great number of students who follow their studies in the Anhalt University of Applied Sciences and many former UBT students are also part of this university. Students are the ones who directly benefit from these partnerships.